Balzer designs new website for PCM district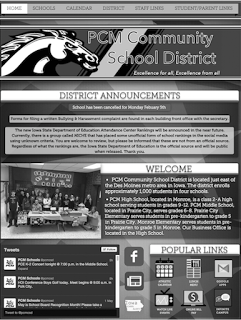 by Taylor Burns
Most people who attended the PCM school board meeting on April 20 expected to hear news on the updates to district coaching staff. But those in attendance learned much more than that. They learned more than that, though. Technology Director Sean Balzer has been working the past six months on a new website for the school district.
Superintendent Jane Babcock asked Balzer to start looking for website builders, which would cost $14,000-$15,000 for the initial building of the website (not including annual fees), but he thought it would be more financially economical to build the site himself. He proposed a cost of $4,000, pending board approval. The prices are still pending.
The website is designed with input from parents, students and staff, including all the things that they wanted that would be easier on the current site. It is a major overhaul to the old website's look. It is also more compatible for mobile devices.
"I like how simplified and personal it feels to the user. I like how if we have a new family to the school district, they could actually go look and see the best individual assets that each school has to offer," Balzer said.
Balzer said some of the special features of the website are: A live Twitter feed built in on the front page, front page events that are announced districtwide, an easy-to-find calendar, a new and improved registration page to help parents and a live-events button on the district front page, making it easier for parents to watch PCM activities.
"My favorite part of the website is the individual school home page," Balzer said. "Each page is customized for staff and students for the needs of their individual building. It  also shows off current events and achievements of the school."
As of now, the website is up for a board approval. It will debut in mid-summer.