Tony Ford tees off as new girls' golf coach
by Kinsey Phipps
PCM High School golf is experiencing changes this season, with new faces taking over the head coaching position in both the boys' and girls' divisions. Tony Ford is taking over the girls' golf program for the 2018 season; he is no stranger to the worlds of golf or coaching.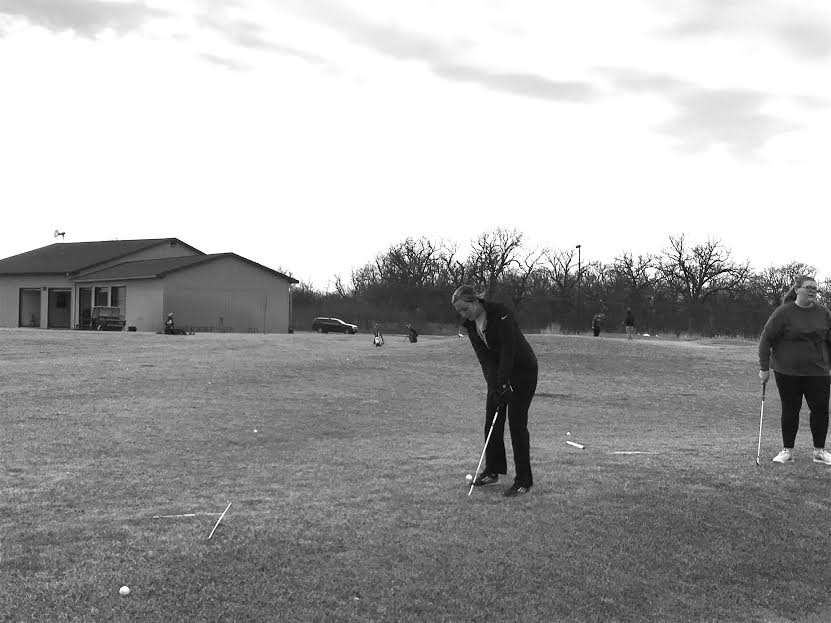 "I started golfing when I was 13 and eventually ended up golfing in high school. I lost my connection with the game after high school until I started working in insurance. The game presented ways to network with business professionals and make new friendships," Ford said. "The game also provides the ultimate challenge because you really can never beat the game, it only allows me to measure myself by setting and accomplishing my own goals.  I've met some extraordinary people through golf and it is something I share with my family, friends, and strangers to this day."
Ford has coached many youth sports, including his own son in golf. In addition, he has coached high school boys' and girls' basketball. With nine girls out for golf this season, Ford is eager to begin competition.
Ford said, "I'm looking to seeing our team compete at a high level and improve each meet.  I know the team has high expectations, and the seniors want to go out with a bang."
There are two seniors out for golf this season, Madeline Mitchell and Sabrina Reed. Reed is in her fourth season as a varsity golfer at PCM, and Mitchell has golfed varsity since moving here her sophomore year in 2015.
"PCM golf has allowed me to meet new people and take more pride in our school. It's one thing to go to PCM, but playing golf allowed me to represent PCM," Mitchell said. "As a individual, I want to play better than I did last year and do my best to stay motivated throughout the season."
Ford has introduced a new opportunity for golfers this season. He set up access to a driving range as part of regular practice. In addition, he is hoping to work with athletes on a more individual level to find their strengths and weaknesses to improve upon for a stronger team all together. In the future, Ford would like to build the program as a whole.
"I would like to see more options for female golfers while they are in junior high. Some ideas include a junior league at Gateway and a girls' junior high golf camp facilitated by the high school team," Ford said. "I think sometimes golf is a forgotten sport until students get to high school, and then it is too intimidating to start as a freshman; it's not.  Golf is a sport that you can play longer than many other sports and it offers so many opportunities."
Watch the girls in action on Monday, April 9 versus Pleasantville at Gateway Golf Course in Monroe at 4 p.m.