Record Number of Wrestlers Go to State Tournament
by Caleb Peter
PCM wrestling continues to rewrite the record books, qualifying six individuals for the state wrestling tournament. After a disappointing loss to Williamsburg at regional duals, PCM sent eight district-qualifying wrestlers to Knoxville on Feb. 10. Among the eight, six qualified for State; out of the six qualifiers, three were undefeated. The team scored 107.5 points, earning first place at  the District tournament beating Williamsburg, who brought ten wrestlers, by four points. This is the first time in history a PCM wrestling team has become District tournament champions, and it's also the largest amount of wrestlers the the Prairie City-Monroe high school has qualified for the state tournament at a time. 
At the 106-pound weight class, freshman Landon Fenton was the first to wrestle. Fenton won his first match by a reversal in the last six seconds of the match. Fenton lost his final match 8-1 to Bondurant-Farrar's Colby Lillegard. There would be no wrestle-back. Fenton placed second, which meant he was going to Wells Fargo.
At the 113-pound weight class, sophomore Payton Drake had a tight-knit day. Drake's bracket this year was loaded with ranked wrestlers. Drake lost his first match to No. 4-ranked Brock Beck of Grinnell 6-5, then lost his next match to Van Meter's Colby Wiederholt 5-4. Drake placed fourth, ending his season.
Senior Chase Shirk won his first match 10-2, then lost finals match 12-1. Shirk then had to defend his second-place finish with a wrestle-back. These occur when a wrestler who finishes second has not faced the third place opponent.Shirk won the wrestle-back 6-0, placing second and qualifying for State. This is the first time Shirk has gone to State.
Freshman Colby Tool, wrestling at the 138-pound weight class, earned second place. Tool's first match was a close one. In the third period he was losing 2-1, but he flipped No.7-ranked Alex Hanna of Eddysville-Blakesburg-Fremont over and got a pin. Tool lost his next match 6-4, with many close calls that could've gone either way. There was no wrestle-back for weight-class 138, and Tool was a state qualifier.
Junior Wes Cummings at the 160-pound weight class defeated his first opponent by technical fall, 15-0, then pinned his opponent from Williamsburg in the first period to earn first place. Next after Cummings, junior Lucas Roland got first at 170, defeating both his opponents by technical fall.
Junior Jarron Trausch at 182 pinned his first opponent in the second period in 3:45. Trausch's finals match was against a tough opponent from South Tama, he was winning 18-4 in the third period and pinned his opponent in 5:36, earning first place.
Senior Noah Anderson at 195 lost his first match by pin by an opponent from Williamsburg. Anderson pinned his next opponent, earning a chance for a wrestle-back. Anderson was pinned in his wrestle-back by a wrestler from Albia. Anderson did not earn a trip to state but completed an impressive season for a wrestling rookie who joined halfway through the season.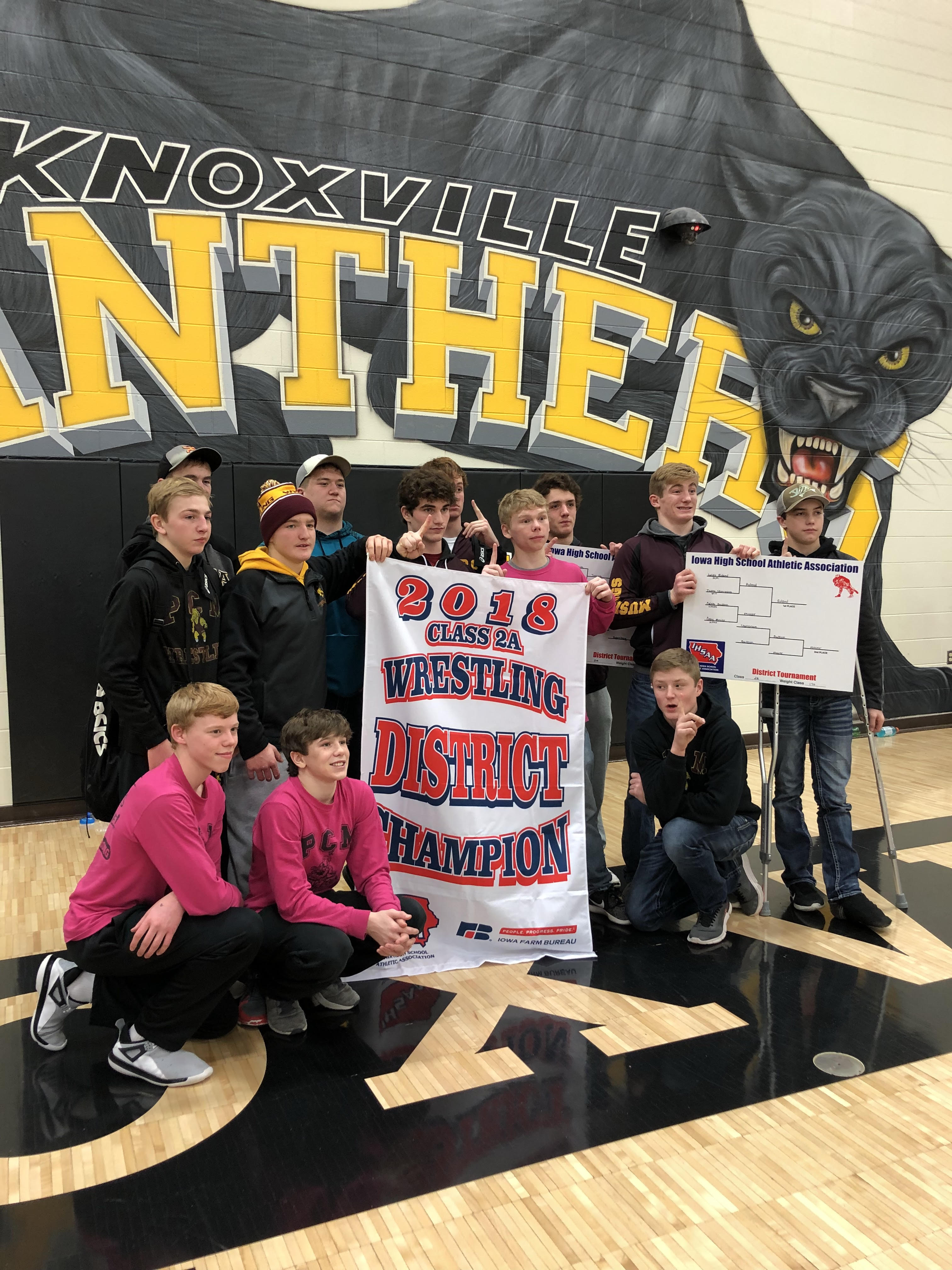 Head coach Jeff Nicholson said, "My approach to the State tournament isn't much different than how we have been training all season. I will be reminding them to stay focused and to not start coasting now. Our work isn't done. We are going to Wells Fargo expecting medals and a shot at one of the team trophies."
The six qualifiers compete on Feb. 15 at Wells Fargo from 9 a.m. to 12 p.m., then wrestle tomorrow in the quarter finals and consolations from 9 a.m. to 1 p.m. The State finals are Saturday, Feb. 17.
Nicholson said, "I am extremely excited for the State tournament. We could have multiple guys wrestling on Saturday night."