Mustangs defense stifles Eagles
by Olin Meinders
Mustangs varsity basketball kicked off the season with a dominating win against Saydel at home on Dec. 1. Dominate could have been an understatement. In fact, very few adjectives are sufficient enough to accurately describe the outcome of the game, but if one had to pick, they'd choose transcendent. The Mustangs' defense was, as head coach Fred Lorensen would put it, "electric." With the defense triumphing and the offense clicking, the Mustangs pulled off the 74-7 blowout.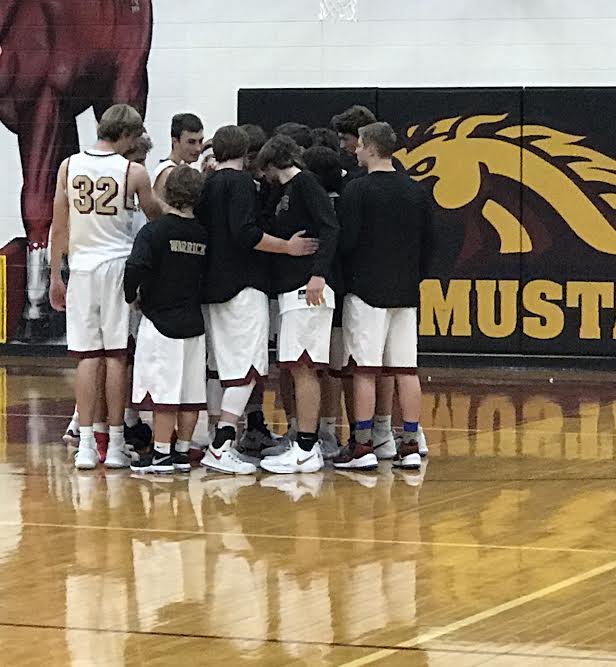 Well before the 2017 season started, Lorensen knew that defense would be emphasized this year. Giving up just seven points to an opponent is a great start and a promising sign of improvement defensively. Saydel spent the entire first quarter of the game without points on the board. By the end of the first quarter, it looked as though the fate of the game was an inevitable Mustangs win. Saydel was able to score five points in the second quarter, but the deficit was still too great for any hope of a comeback. The Mustangs were on top 49-5 at halftime.
The Mustang defense continued to oppress the Eagles in the second half, and the Eagles were only able to score a measly two points in the last two quarters. PCM was able to keep scoring with many of the starters sitting, scoring 12 points in the third quarter and 13 in the fourth. At the end of the game, the score was predictably in favor of the Mustangs, 74-7.
Leading PCM in scoring and assists was senior Elijah Sperfslage with 13 points and four assists. Junior Andrew Van Ryswyk leads in rebounds, grabbing nine boards for the night. Senior Dayton Boell also had an impressive performance, scoring 12 points while going five for seven on field goals and two for two for free throws.
PCM will head to Jefferson tomorrow to take on Greene County. Tip-off for varsity will be at 7:30.