Last High School band & choir concert for Varner, Thompson and Contini
by Caleb Peter
On Tuesday night, May 9, the band and choir performed their last concert of the year. It was the last concert for the directors. The middle school band director and color guard sponsor Teresa Thompson is retiring, and it was the last high school band concert under the direction of Ben Varner, who will be teaching band at the PCM middle school. Choir director Rocco Contini is stepping down from the PCM choir to attend grad school. With that many great teachers leaving, it was an emotional, tear-jerking performance for performers, directors, and audience alike.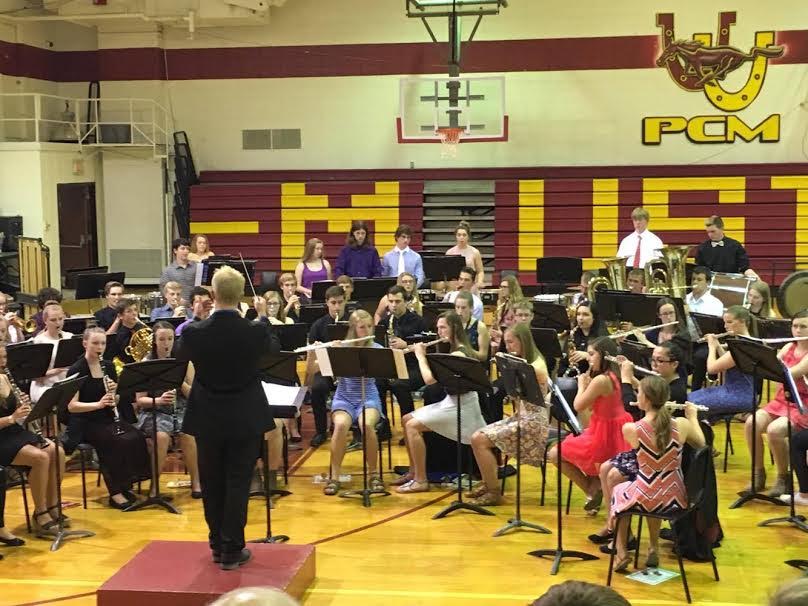 The choir performed Rockin' Jerusalem, O Nata Lux, You'll Never Walk Alone and I Lived. Soloists were Alex Inskeep, Graham Davis, Sidney Metzger, Blake VanDerKamp and Rachel Stafford.
The band performed 3 songs, Chasing Joaquin Morietta, Sheltering Sky, and Imaginarium.  The percussion ensemble performed Echoes of the Rising Sun.
"I thought the concert went absolutely wonderful," said Varner. "I am so proud of all the students here at PCM and happy that this last concert was the best I've been a part of. The finality of it all didn't hit me until we were part of the way through Sheltering Sky and we had just played a beautiful phrase. I got a little overwhelmed emotionally and had to keep it together until the end of the piece! Great concert, amazing students, and an incredible way to finish things here at the high school."
Awards were given out to students at the event as well. Senior Courtney Bridges won the John Phillips Sousa Award for outstanding band member, and senior Rachel Stafford won the Louis Armstrong Award for Jazz. 50 students received letters and pins for band. Juniors Baylee Smith and Sabrina Reed won the Most Improved award.  Other highlights of the concert were a solo Evermore by Graham Davis, Thank You by Megan Cox, and a marimba solo Frogs by Wyatt Van Gorp
The concert ended, hugs were given everywhere, there were tears, and an era of choir and band came to an end. The band and choir is looking forward to meeting their new teachers to continue the great excellent tradition of the PCM music program.