PCM girls place second; boys place fifth at home meet
by Gunnar Davis
On the morning of April 7, the chances for having the home meet for the PCM Mustangs girls' and boys' track teams looked grim due to cold and rainy weather. But PCM Athletic Director Greg Bonnett kept faith, and by the time the meet rolled around that evening, the weather was just good enough to have a meet. The girls' team placed second behind North Polk with 132 points and the boys' team placed fifth with 82. CMB won the boys' meet.
For the boys, the team only had one first-place finisher. Senior Maverick McAtee won the 1600 with a time of 4:58.38 and is picking up right where he left off last year.
Senior Skyler Koder placed second in the high jump with a jump of 6-00. The shuttle-hurdle relay team of seniors Ricky Reeve and Luke Pendroy, junior Austin Sneller and Koder placed second in a photo finish with CMB, losing by only .19 seconds. They ran a 1:03.74. Junior Logan Gilman placed third in the discus with a heave of 118-10.
The girls had a long list of top achievers with seven first-place finishes, three s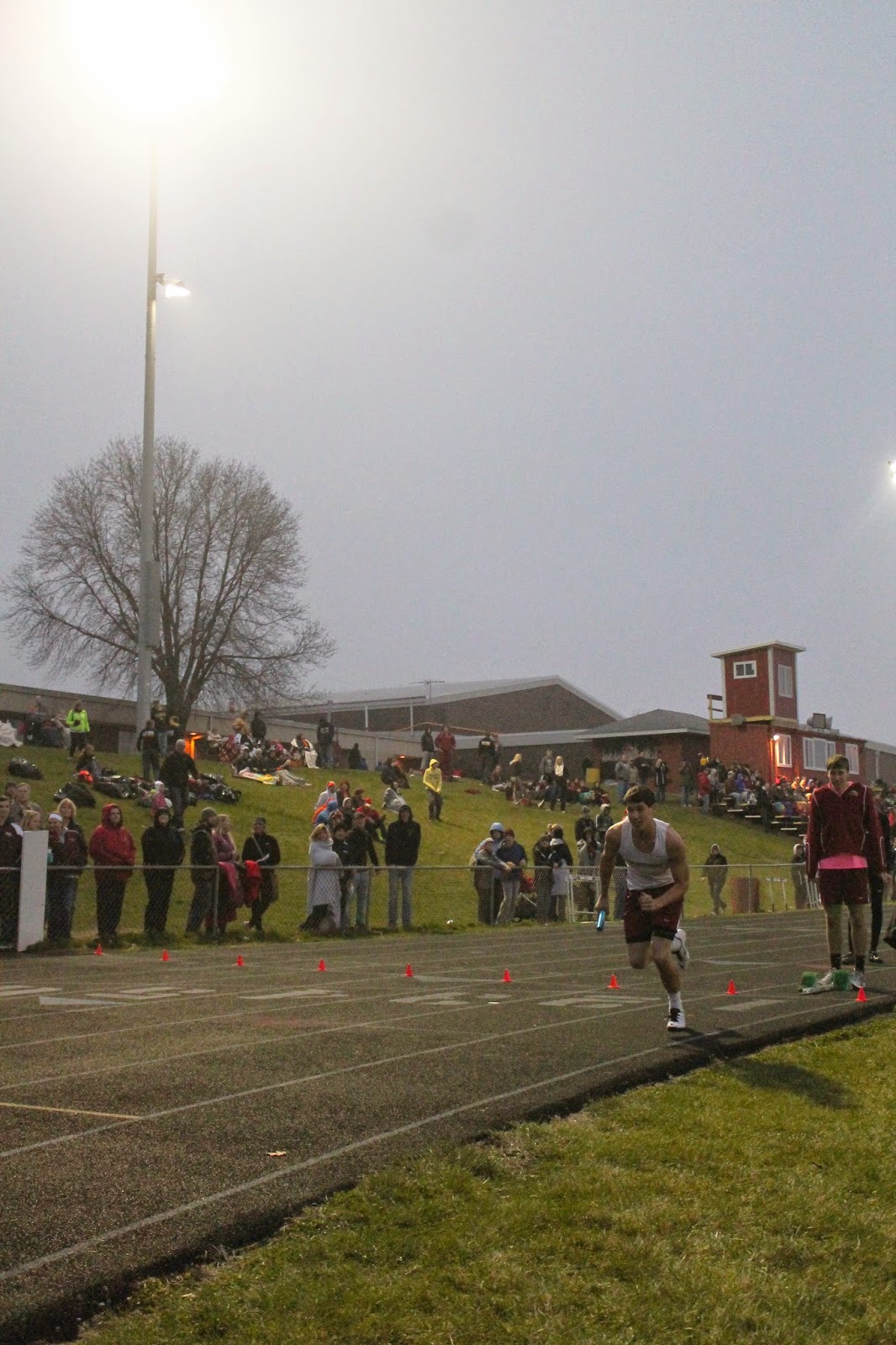 econd-place finishes and three third-place finishes.
In the field events, senior Grace Telfer won both the shot put and discus with throws of 36-00 and 96-09, respectively.
Individual races were a high on the night. Senior Rachel Peter won both the 3000-meter and 1500-meter races. In the 3000, her time was 11:31.12, and in the 1500, her time was 5:16.48. Sophomore Rachel Stafford also impressed with her time of  2:37.03 in the 800 meter run, earning her gold.
Sophomore Tatum Schnug placed second in the 400 hurdles with a time of 78.04. Senior Mackenzie Clarke placed third in both the 100 and 200 with times of 13.35 and 28.43, respectively.
The 4×200, consisting of Clarke, junior Emily Hugen, Stafford and junior Ashley Van Gorp, continues to impress with one of the fastest times of the state. This time, they placed first with a time of 1:53.96. The 4×400, consisting of Stafford, freshman Baylee Smith, Clarke and Van Gorp, also took home gold. They ran a 4:30.72.
The 4×800 team of Stafford, Smith, freshman Amaya Hartson and junior Morgan Novak placed second with a time of 11:10.87. The distance medley team of freshman Ashley Miller, sophomore Mackenzie Messick, Schnug and Peter also placed second with a time of 4:40.14.
Rounding out the relays was the sprint medley team of Hugen, Miller, Messick and Van Gorp. They placed third with a time of 2:03.49.
"There were quite a few girls that carried a heavy load tonight," Girls' Head Coach Bridget Martin said. "And they did a nice job from start to finish. Although we always strive to win, we were very pleased with our second place performance tonight."