Blood Drive Poll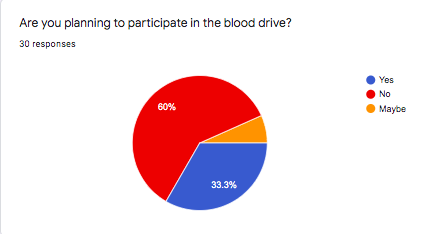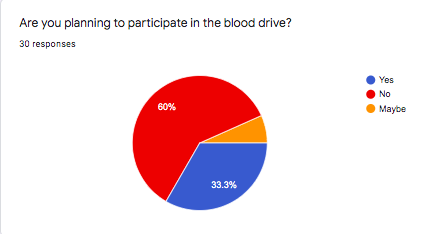 Here are the most popular answers when asked why or why not they would donate blood:
Yes: "I just think it's a good thing to do." – Dylan Masterson
No: "I don't wanna pass out at football." – Matt Rosonke
Yes: "Out of respect for others that could be struggling. also with the pandemic that is going on, I could have antibodies that could help with the research and treatment of COVID-19." – Emma George
No: "I don't trust anything that sucks blood: Vampires, needles, etc." – Chris VerHeul
No: "I don't weight enough." – Taryn Steenhoek
Yes: "The world needs blood to save lives." – Alyssa Giles
No: "I don't want to pass out in front of everybody. That's pretty embarrassing." – Dylan Warrick
Yes: "It seems fun haha… Plus I don't know my blood type, I kinda wanna know that." – Kara Wallace
No: "I am a regular donor outside of school also and I was told I have to wait six months in between donations." – Gracelyn Nickelson
No: "I'm not heavy enough." – Savannah Disney
Yes: "There are people who need this blood in order to survive, and I'm just hoping I can help." – Bess Telfer
Yes: "To help people." – Jensen Reid
No: "NO YOU CANT HAVE MY BLOOD YOU VAMPIRE." – Carson Porter
Maybe: "You could help save lives, but you have to do what is best for you first." – Hannah Ponxs
No: "Because you guys don't need my blood and i don't trust you guys taking my blood." – Bethany Bassford
No: "I don't feel comfortable giving blood."  – Alex Courtney
Yes: "I enjoy helping people even if I don't know who I'm helping." – Gabrielle Brundage
No: "I am not 16 yet." – Jaiden Fairbanks
No: "Im not allowed to due to health." – Luke VanWyngarden
Yes: "I think it is important to donate for people in need." – Emily Foster
No: "Way, way, way, way, way, way, way, way, too scary. It is borderline not worth it." – Gabe Graber
No: "Don't want death. R.I.P" – Gavin Fenton
Yes: "I think it is an easy thing that anyone can do, and it could possibly save a life. Plus I heard they give you a cookie, so why not?" – Isabelle Hudnut
No: "I'm not 16." – Donovan Nickelson
Yes: "Because I would like to donate my blood for those in need." – Zelda Fry
Maybe: It's for a good cause, but I'm really scared of needles." – Kiera Nelson
About the Writer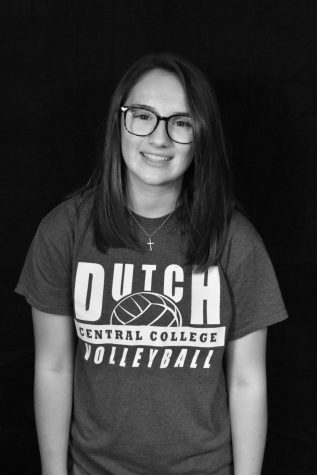 RaeAnn Duinink
My name is RaeAnn Duinink. This is my first year in journalism. I am a sophomore at PCM. I play softball and volleyball. I love to watch Netflix. I decided...