6-12 Concert Receives Standing Ovation
by Ayrton Breckenridge
On Feb. 27, the middle school and high school band students got together to perform a night full of music. It started with the the middle school jazz band, a new adventure for the students and music program at the middle school. The new middle school band director Ben Varner, started the jazz band when he arrived.
"I am so proud of our middle school jazz band. I feel that the students are having a lot of fun while learning some different styles of music associated with jazz. I'm happy with the progress our winds have made and am enjoying teaching the rhythm section how to groove.  Watch out PCM because we are planning on playing "Chameleon" at our spring concert," Varner said.
The middle school jazz band gives them a chance to learn it before they get to high school and perform in competitions. Along with getting prepared for high school, it also gives them a chance to experience new music styles and new instruments.
"It's more interesting to play the trap set than just playing the snare in concert band," said seventh grader Hudson Geer.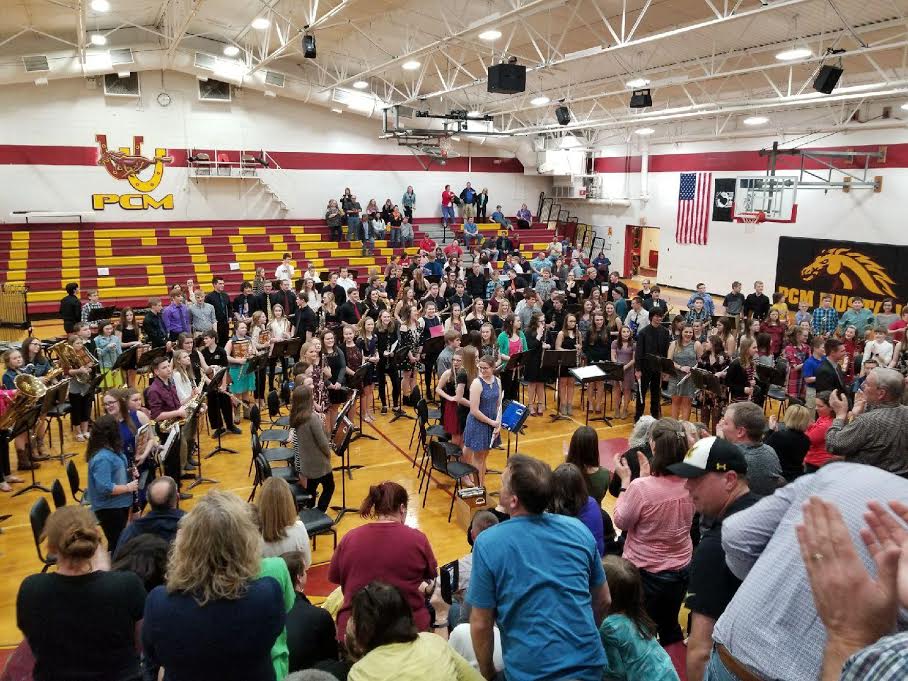 After the middle school jazz band performed, the high school jazz band followed with their songs that placed them first previously that week at Indian Hills. The middle school took the stage again with the sixth grade performance and then the mixed seventh and eighth grade performance came after.
"I have really been enjoying working with all the students at the middle school in my new role at PCM.  It has been fun learning things on the other side of the program and the energy that our students bring to the table," Varner said.
Varner prepares the seventh and eighth graders of the middle school to perform at a high level for high school. The eighth graders put in hard work to make their last performance for middle school terrific.
"I think we played pretty well, and I think we killed it," said eighth grader Keaton Thomas.
Then it was time for the high school to play. They performed three songs individually. The high school is under the direction director named Louis Dupuis. The fourth song performed by the high school brought everyone, sixth through twelfth grade, together to perform one song called "E Pluribus Rockum" written by Jerry Williams. Previously that day, the middle school and high school gathered to rehers one last time. This payed off, and the song received a standing ovation from the crowd and a gained music experience for everyone.
"It's great to have our 6-12 students combined into one concert. The connections and bonds formed between students of different grade levels is very important to the success of our program. It also gives younger students an opportunity to see what it's like to participate in band at the high school level. I look forward to continuing this band tradition in the future," Dupuis said.