Three 'Stangs wrestle at State today
by Kinsey Phipps
District wrestling held five Mustang grapplers to compete on the afternoon of Feb. 11. The chance to wrestle at Wells Fargo Arena in the State tournament was at stake. Three wrestlers made the cut and will be wrestling today, Feb. 16. Those three wrestlers are all 2016 returning State qualifiers: Senior Xavier Miller and sophomores Lucas Roland and Jarron Trausch.
Freshman Payton Drake qualified for Districts in the 106-pound weight class. Drake won his first round match against freshman Michael Thomas of Albia in a decision, 6-0. In the finals, Drake faced freshman Brock Beck of Grinnell. Drake beat Beck in Sectionals, 3-2. Unfortunately, Drake fell to Beck in tie-breaker, 4-2. Drake earned second, but he hadn't faced the third place opponent, Bryce Hatten of Winterset. Because of this, the pair wrestled in a wrestleback for second place, the winner earning a ticket to the State tournament. Drake had defeated Hatten in the Big Red Invitational earlier in the season. Hatten came out on top this time, pinning drake in 5:06. Drake's season was cut short of his goals, but he has three years ahead of him to come out on top.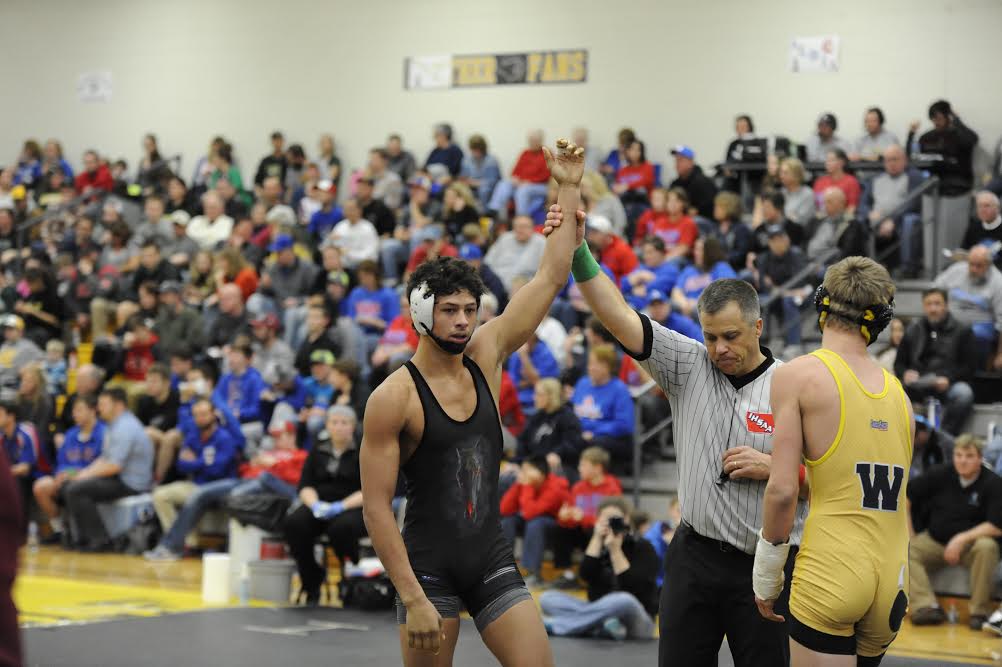 Junior Chase Shirk was next in the 138-pound weight class. This was Shirk's first year wrestling varsity, and hard work all season brought him to the District tournament. At Districts Shirk fell short, losing both of his matches by decision, 4-0 and 6-4 respectively.
Senior Xavier Miller is aiming for big things at the State tournament this year, so winning Districts was just the first step. Miller climbed to the top of the podium, winning his first match against senior Bryce McKim of Albia by technical fall, 5:31. In the finals, Miller defeated senior Justin Smith of Winterset in a decision, 8-3, sealing his spot at the Well.
Returning State qualifier sophomore Wes Cummings is out with a torn inferior capsule, and he got surgery to repair it on Feb. 7. "It really sucks because I thought I had a pretty decent shot at doing well this year, and it's rough seeing that hard work not pay off for much."
Cummings will be out for six months, unable to run track or play baseball.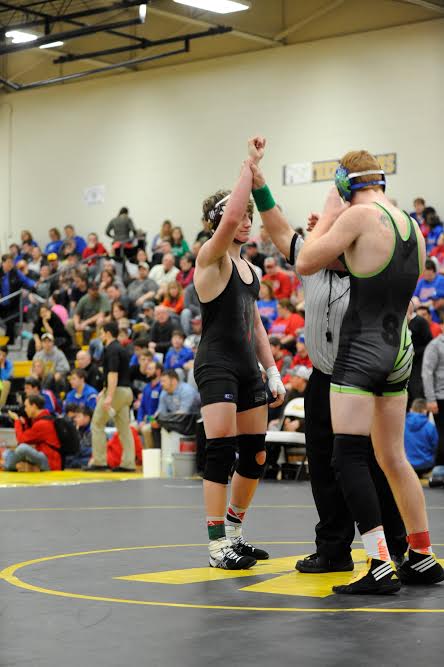 "I think on this time off I'm going to learn a lot about myself outside of athletics because a lot of my life is consumed in sports," Cummings said. "I think I will come out a lot more appreciative in the end because one it's gone, you can't have it back."

Sophomore Lucas Roland wrestled in the 160-pound weight class, and he earned himself his second District championship and second trip to the Well, winning his first match by technical fall in 4:58 and earning a injury default win in the finals for first place.
Sophomore Jarron Trausch also won his second District championship in the 170-pound weight class. Trausch defeated junior Stephen Wardlow of Centerville by major decision, 14-6. In the finals, Trausch defeated senior Devon Van Houten of Saydel, 12-5. With the victory, Trausch earned his second trip to the State tournament.
Miller, Roland and Traush all wrestle at Wells Fargo Arena tonight, Feb. 16 at 6 p.m. Depending on their performance tonight, the boys may wrestle tomorrow, Feb. 17, and Saturday, Feb. 18 for a chance to stand on the podium. Come support the Mustangs this weekend as they battle it out at the Well.