Bringing tennis to PCM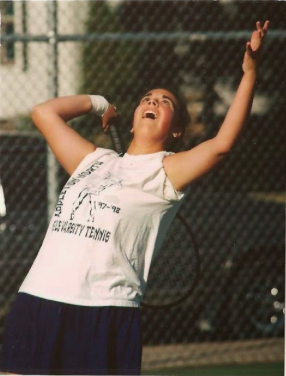 by Ryan Kohlhof
This year, PCM has opened up to the idea of a new sport: Tennis. Both Prairie City and Monroe have tennis courts that are hardly used, until now. With a lot of help from High School Science Teacher Kristen Souza, a few students got the ball rolling on starting a club tennis team.
"I'm really exited because I love tennis and exposing kids to something they've never tried could be beneficial/fun to some people," Souza said.
Souza used to play tennis as a youth.
"I have been playing since I was eight," Souza said. "I played on various youth leagues growing up, and in high school and I made varsity my freshman year and continued to play singles through high school. I was also captain for two of the years."
So far, the season is being planned to start sometime in April. They plan on having practices at the Tool's Point park courts. This year will consist of learning proper form and rules. A tournament will be held at the end of the season with the team playing against themselves. Next year, they plan on having tournaments against other schools. The plan is to cap the team off at 14 players because there are only two courts.
To join the team you will need a physical and a concussion sheet on file in the office. The team will have to fundraise, so any donations are welcome for purchasing tennis balls, a cage and rackets for those who need help getting one. If you are interested and willing to put time into it, consider joining the tennis team. If you have any questions, feel free to ask Souza.