Ellens claims victory; girls dominate at home
by Caleb Peter
The PCM mustangs' cross country team ran their home meet on Sept. 22. The runners exceeded expectations of all, the girls won as a team and senior Chris Ellens won first place again in the boys' race. Several mustangs had season best times.

The girls' team did a fantastic job getting first place out of
nine teams, scoring 33 points as a team. Seven mustang girls finished in the top 20.
"It was awesome to see the girls win," Head Coach Eric Karr said. "They got second place last year, so to get the win this year was great. All seven girls on the varsity team medaled, five of them with season personal records," Karr said.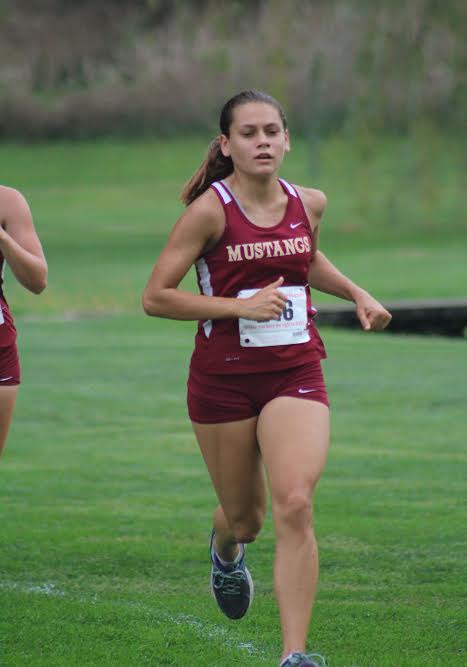 Sophomore Paytan Schut was the first mustang runner to finish, clocking a time of 22 minutes, 33 seconds, getting second place out of 100 runners. Not far behind Schut, sophomore Kirstin Ives and senior Jayci Vos ran a close race, finishing fifth and sixth place, getting 22:57 and 23:16, respectively. Sophomore Megan Townley was next to cross the line, running a 23:54 and earning 12th place. Juniors Baylee Smith and Ellie Steenhoek got 15th and 18th place with times of 24:20  and 24:37, respectively. At 20th place, senior Rachel Stafford did her part by running a time of 24:45.
"It was just great to see them finally coming together as a team where I think they should be," Karr said.
Once again, Ellens ran an awesome race, finishing first and clocking a time of 17:16.
"I've been working at it for four years, and the work's really starting to pay off," said Ellens.
"He ran a great race," said Karr. "It's really hard for Chris to run out by himself and chase a machine. It's always easier to have somebody running with you, so hopefully we'll get to a meet here soon to give him somebody to compete with."
The boys' team finished eighth place out of 15 teams, scoring 208 points. The next Mustang to finish after Ellens was freshman Jason Stafford, who placed 42nd, clocking a time of 20:24. Junior Brady North was the next to finish, earning 48th place with a time of 21:02. At 59th and 61st, freshman Jacob Cox and junior Caleb Peter had a neck and neck race, getting times of 21:13 and 21:15, respectively. Senior Mark Bruxvoort ran a 21:55 and freshman Owen Hugen clocked a 22:16."
The boys' team had a lot of really close personal records and two season PRs. I think they're finally starting to believe in themselves and know that they can compete," said Karr.
The Mustangs' next meet is at Norwalk High School on Monday, Oct. 3, at 4:30 p.m.