Jazz band gets first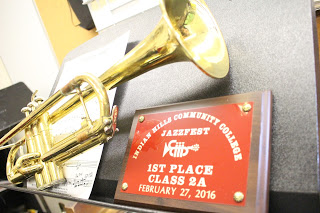 by Drew Johnson
The PCM Jazz Band played at Indian Hills Community College school Feb. 27. They went into the competition having not placed in any of their previous competitions. This time was a little different.
It was heated during awards, to say the least. After they called Eddyville-Blakesburg (the second-place winners), the doubtfulness set in for the PCM Jazz Band. When the announcer called PCM up to claim their award for first place, everyone was ecstatic.
"The band understood that we needed to change our work ethic in order to have a successful season," Jazz Band Director Ben Varner said. "I thought the band finally played to the top of their potential for Saturday's performance.  It was so much fun to listen to and be a part of such a high quality group."
They played the following pieces of music: "Groovin' Hard," "My Funny Valentine" and "On Green Dolphin Street."
The Jazz Band's next and possibly last performance was at the 6-12 concert March 1.