Life of Ray Todd memorial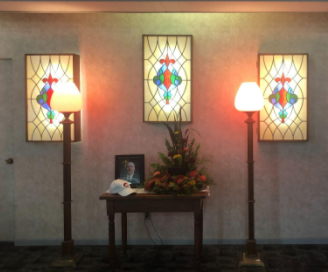 Ray Todd Died on Tuesday, September 20th.
Death is rarely telegraphed; expecting it only seems to ensure its delay – refusing to acknowledge it only brings it closer. Few people anticipated Ray Todd's death on September 20th. Few people could have expected his death. From the outside, seemingly came without warning. 
A visitation and celebration of life ceremony for Todd were held on Monday, September 26th at Winfield Funeral Home in Knoxville. For this, a day off of school was granted so that students and staff of the PCM high school could attend. While students were still given work to do on that day, the time away from school still offered an opportunity to reflect on Todd's life. 
Ray Todd, also known to some as Ray Dean, was born on March 10th, 1958. To PCM, he was merely a custodian; he had worked at the school for 9 years previously. Todd himself though was far more than this. He was also a husband, father, little league coach, master arborist, former taxi driver, devoted cubs fan, and kind human. He loved movies like Airplane and Spaceballs, which he shared a particular sarcastic sense of humor with. It can be easy to forget or to even actively dismiss as we traverse the perils and struggles of our own lives, but Ray had a full life. He left behind a wife and two sons. 
The ceremony was officiated by Pastor Brent Hanna. While it may not have been quite the royal burial that has been plastered over the news after Queen Elizabeth's recent passing, the service was still by no means small; The main hall of the funeral home had been entirely filled, as many people ended up sitting down in overfill rooms of to the side and towards the back of the main room. The impact of Ray's life could be distinctly felt in that room. 
As the Ceremony closed out Pastor Brent Hanna posed a call to action to those who attended the ceremony.
"What are you going to do about Ray's passing? … You can make a difference in your world, so what are you going to do?" It is eminently easy to move on from death without reflection on oneself, but doing so is to ignore an incredible opportunity. We now have time to reflect and to make the world a better place in honor of those memories; in honor of people like Ray.
During the celebration of life, Todd was quoted as saying, "Longevity is overrated." He died at the age of 64, far younger than most would have expected. The service ended with the song "Something to Remind You" by the band Staind. The song itself rings as a mellow if somewhat bitter final speech from beyond. 
Ray Dean Todd's final resting place is at Russel Cemetery in Russell Iowa.