Best dressed: PCM Prom 2022
         As we all know, prom happened this past weekend, and while I decided not to dance the night away at prom this year, I thoroughly enjoyed seeing all of the amazing outfits. This year's prom theme was the Met Gala Garden theme and let me tell you the students at PCM did not disappoint. From vibrant colors to sparkles and ball gowns to jumpsuits the walk down the red carpet was definitely worth the anticipation.
Best dressed couple: Gabbie Brundage and Trey Broderson
This couple was a very popular vote for best dressed and I completely agree with the hype on this one. First of all I love the color scheme, it fit the garden theme nicely and was very elegant and classy. I'd say one of my favorite components of this outfit is the matching green shoes, I feel like they really bring the outfits together so well. All in all this couple dressed to impress and it definitely showed.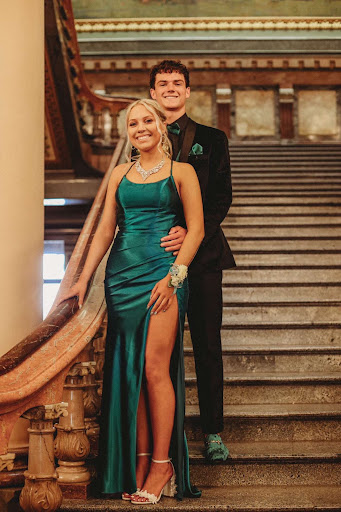 Best dressed couple: Sidney Shaver and Gavin Fenton
Another popular vote for best dressed couple was these two stunners, and I think it's well deserved. I think this couple had a fun vibe. I love that the two outfits are similar yet still different. I love the splatter paint look on the suit and the funky designs on her dress. The black and gold color scheme is super classy and elegant. This couple was definitely red carpet worthy.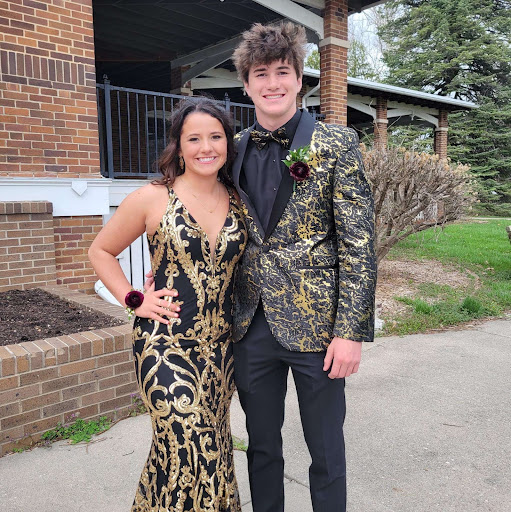 Best dressed girl: Chelsea Bird
When I think of Met Gala, I picture outfits that you look at and are amazed by, outfits that are outside the box and unique. This jumpsuit really checked all those boxes in my opinion. The colors and sparkles are really out there and eye-catching. I love the idea of a jumpsuit rather than a dress and the jewelry and shoes really pulled it all together. This outfit was definitely the one that stood out the most to me. 
Best dressed girl:
Evelyn Burkett
This dress was one of my favorites of the night. I didn't see too many ball gowns like this one, which made it stand out to me. I love yellow. It reminds me a lot of spring and it fits the vibe of the theme super well. Her look reminds me so much of the dress from "Beauty and the Beast" and I thought the hairstyle she chose fit the dress nicely.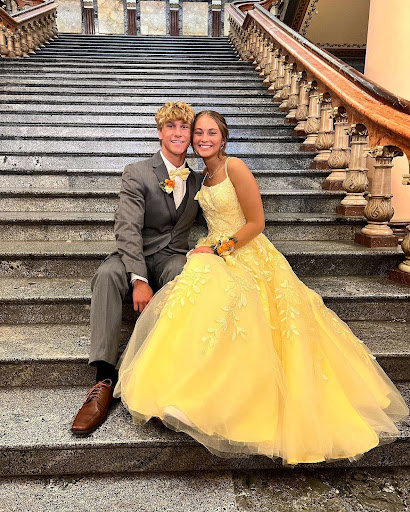 Best dressed boy:
Trey Voeller
Again, this was an outfit that I thought fit the Met Gala theme so well. Personally, out of the boys I think his outfit was the most fun. The royal blue jacket with the sparkles was very out there and the blue heart glasses added a nice touch to the outfit as a whole. This outfit was definitely one I would have done a double take at. 
Best dressed boy: Aydan Camu
If you don't know, Aydan abandoned the journalism team, and while we're still a bit upset about it, I have to say a lot us felt that this fit was clean. You don't see too many full white suits at prom which makes it unique. I really liked the accent colors they chose and they stood out against the white suit bringing in a pop of color. White is definitely bold but he pulled it off very well.