Communities come together in memory of Ty Carlson
by Kinsey Phipps
"Ty is my love. Not only was he my love, but he was my best friend. He was everything in my life. I pushed him to be a better person, and he pushed me to overcome my fears. We were a team," 2017 PCM High School graduate Brooke Nicholson said.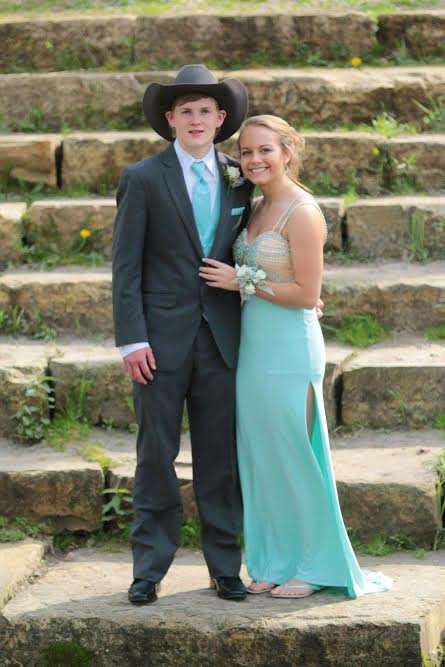 Saturday, Aug. 5 is not a night area residents will not soon forget. Ty Carlson, a 2016 Colfax-Mingo High School graduate, passed away that night after losing control of his vehicle. Carlson was on his way back from the Maxwell rodeo where he had the ride of his life, being the only one to "make the eight." The night Carlson lost his life, he achieved a goal he'd been chasing for years.
Carlson had an impact on many communities. Not only was he a Colfax-Mingo alum, his relationship with Nicholson brought the Prairie City-Monroe community to welcome Carlson with open arms. In addition, he wrestled all throughout his life and played football in high school. He was also a member of the Iowa Central Rodeo Team where he was getting ready to start his second year. Carlson's funeral service was held in the Colfax-Mingo High School gym, filled with all people who were touched by him.
Carlson's Iowa Central Rodeo teammate, Dalton Breckinridge, organized a memorial bull riding event for Carlson just a day after the accident to be held on Sept. 2. What typically takes months to plan, Breckinridge did in a couple of weeks.
"The community has given the Carlson's and I amazing support. We can't thank everyone enough for all they have done," Nicholson said. "The memorial bull riding was an amazing thing that we were all thankful to have. It was an honor to Ty. Ty was most likely up in heaven wondering why we would do something like that for him because he never wanted all the attention on him."
There were 32 spots available for people to ride in the memorial bull riding event. One of those spots was held by Newton High School senior Tristin Langmaid. Langmaid and Carlson weren't much more than acquaintances at the time of Carlson's passing, but losing a fellow cowboy for the first time affected Langmaid more than he expected.
"I was very sad when I found out he had passed. I had seen him hours before; it didn't seem real," Langmaid said. "I wanted to ride in his rodeo for many reasons. I wanted to help give to the family and be part of an event that meant so much to him and his family. It meant a lot to me to be a part of that."
Upon hearing about the memorial bull riding event, area barrel racers decided they wanted to host an event in honor of Ty as well. Jodi Johnson, a 1991 Prairie City High School graduate and parent of two PCM High School students, brought the idea of a memorial barrel race up to her fellow Iowa Barrel Burners (IBB) crew. She knew many of his college barrel-racing friends and other members of the rodeo community would love to support an event such as this. The IBB was very excited about putting on this event.
The Ty Carlson Memorial Barrel Race will be held on Sunday, Oct. 8 at the Sonny Walker Rodeo Arena in Maxwell, Iowa, where Carlson's last ride was held. The Maxwell Rodeo Committee was generous enough to allow the IBB to hold this event in memory of Carlson, free of charge. Admission will be free for spectators, but a portion of each entry fee as well as warm-up money and raffle will be donated straight to the Carlson family.
At 12 p.m., there will be a warm up for riders. Following warm-ups will be Cowboy Church at 1:45 p.m. Races are not to begin before 2 p.m. The event order is as follows: Rookie Racers, Open Class, How Hard Can It Be Race and Youth Class.
"My mom and I will both be competing at this event," PCM senior Kenzie Johnson said. "It means a lot to me to be able to give a little back to Ty's family and be a part of something bigger than myself."
This time has been difficult for many, but Nicholson has found ways to get through it.
"I have to constantly hold onto my faith and tell myself God does everything for a reason. I have my good and bad days. There isn't a moment where Ty is not on my mind," Nicholson said. "I got a sign from Ty on my birthday this past year, and it says 'Live your life with intention. Live the life you've always dreamed of; the life you always imagined.' That quote is what Ty is telling me to do; it keeps me moving."