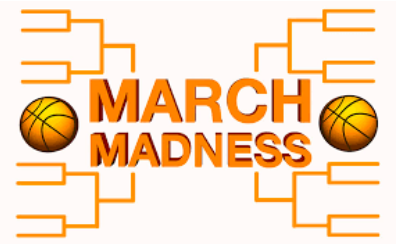 by Dylan Sanders
March is the finest time of the year. For some, March is great because winter is ending. Others believe that March is great because the NCAA basketball tournament begins. Many have titled the tournament "March Madness" due to the tournaments unpredictability. It is near impossible to predict the tournament, for there are nearly nine quintillion different possible outcomes that the tournament could produce. That doesn't stop everyone from trying to predict the tournament. According to ESPN there are nearly sixty million brackets filled out each year. If someone were to predict a perfect bracket, then they could win a very large sum of cash from multiple sources. No one has come even close to filling out a perfect bracket.
The NCAA tournament field is made up of 68 teams. The clubs are then split into four different regions by the selection committee. They are then seeded 1-16 based on their record and accomplishments in the regular season and conference tournaments. One-seeds are nearly always the favorite to win it all, but this year was different. The Duke Blue Devils were a two seed in this years tourney, and they were the favorite this year which is unheard of. Most teams are out of the tournament by the second weekend. The first weekend includes the round of 64 and 32. The second weekend includes the sweet sixteen and the elite eight. 
This year's March Madness wasn't its usual self in the round of 64. Very few upsets happened, and many brackets remained perfect. That changed fast as the second slate of games began with a one seed losing and the two seed that was favored to win tourney lost as well. Now there are zero perfect brackets remaining, and it's just the sweet sixteen. Seems pretty quick right? Well, most years all the brackets are busted through 20 games. According to Mike Benzie of ncaa.com, this year someone's bracket remained perfect through 39 games. It busted when Purdue beat Iowa State. Many people pick brackets based on their favorite teams. Others try to predict unlikely scenarios that may happen in the tournament. Such as picking a thirteen-seed to beat a four-seed. The most popular way to make a bracket is by picking the favorites. The best way to make predictions might be to just use a little bit all of these methods. Almost always, the team that is the number one overall seed is the favorite, and they are the team that nearly everyone has winning the championship. This year the Villanova Wildcats are the number one overall seed. They are already out of the tournament. That upset busted millions of brackets. Almost 18 percent of all brackets had Villanova winning it all. That just shows the unpredictability of March Madness.