Color guard spins into success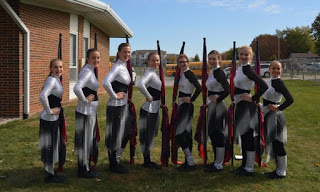 by Ashley Miller
"I told the girls that we had to think outside the box," Color Guard Director Ms. Teresa
Thompson told her group of girls to prepare for this band season. They did, and they prevailed. The PCM Color Guard won Best of Show at the Pella competition on Sept. 26. Then went on to break a school record at the State Competition with 89 points.
The color guard performed to the music of Cirque du Soleil, which meant they had to jazz up their performance but maintain their form.
"We added a lot more dance moves, and we added the use of a 'parachute' type flag in the ballad," Thompson said. "The biggest aspect for the guard is to believe in themselves. Go out and make each performance better than the one before. This group of girls worked very well together and had a lot of fun, too."
This summer, all of the color guard members along with Thompson met up once a week to begin planning their choreography. Two of the three songs were completely choreographed by the beginning of the school year.
When the guard practices without the band, they work on timing, hand position on the flag pole, feet positions and angles of the flag so that all eight of the girls look the same and in sync. When they are with the band, they focus more on marching in their correct positions and doing all of the flag work at the same time. This is sometimes the hardest part.
At the Pella competition, the girls set out to win, and that's exactly what they did.
"Receiving the best color guard award at the Pella competition was the one of the highlights of the year. I was very excited for the girls," Thompson said. "They worked really hard this year and deserved this award. I will always remember Samantha's [Rosonke, senior] face when it was announced. She was so excited."
The PCM color guard will continue to strive to get better, and perhaps they'll break the record they just set.