Gutter ball at Knowledge Bowl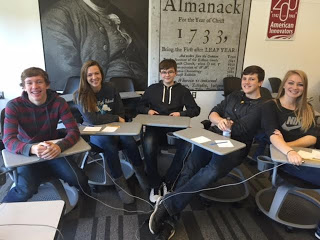 by Drew Johnson
An aspiring group of PCM ELP students competed at The State Knowledge Bowl competition Friday, Oct. 30, at the DMACC West Campus in West Des Moines. Freshman Max Oelmann, sophomores Drew Johnson and Ryan Palm and juniors Jacob Phillips and Rachel Stafford beat out the local competition in order to secure a spot at State.
Knowledge Bowl consist of questions that test general knowledge. During school hours this group spent a couple periods answering a 200 question quiz.
They started off with a written test. Their score turned out to be some where in the middle: not great, not bad. The rest of the day was a little more competitive. Three teams were asked questions, and each student had a buzzer. Though they didn't win, the Mustangs didn't end up in last, either.
"I kind of felt like I was in a room with a ton of Iowa kids who were going to be future business leaders, inventors, scientists or go on to do lots of good things. It was humbling to realize, you aren't the top dog,"  Stafford said. "I thought it was a very good experience. Yes, we may not have been the group who knew the most random facts, but it was a fun day, and I learned a lot of random stuff."
This team will have the opportunity to go to State again next year because none of them are seniors, and they will hopefully ready to take down this year's champion, Madrid.