Jermeland brings work ethic, experience to PCM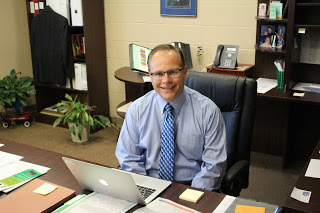 by Gunnar Davis
After former PCM Superintendent Jane Babcock announced that she would be stepping down from her position in June, that left the PCM Community School District to decide on a new Superintendent. The list was long, but was ultimately narrowed down, and the job was given to Mr. Brad Jermeland.
One of the reasons Jermeland was hired was his willingness to work and address situations, but he also has the ability to sit down and have a conversation with anyone.
"What attracted me to the position is that it enabled me to focus on one job," Jermeland said. "I was contacted by some people to apply for the position, so I thought, 'I'll throw my hat in.' I knew it was stable financially, had good people to work with and the location was an attraction to me, too."
In terms of location, the former Ogden superintendent currently lives in Indianola with his wife, Linda, and his dog, Meg. He normally wakes up around 5:30 every morning to make the 45-minute commute to Monroe to start his work day.
"We're currently looking at lots and house plans to build here within the school district," Jermeland said. "We want to buy a lot around the area."
Although work is taking up a lot of time for the 28-year education veteran, he does have many hobbies, one being he likes to get out and be active.
"I go to the Iowa football games," he said. "My good friend has season tickets, and I've been going with him for about 15 years now. I like to exercise when I have the time available, and I also like to read."
Work takes up the most of Jermeland's time, though, and he has many goals for his first year at PCM.
"I think the first goal is to learn more about the community, about the district and the culture," Jermeland said. "I like to be visible at events, whether it's sporting events or music events. I'd like to establish a good working relationship with the school board, and then to start setting the plans for next school year and beyond."
One thing that Jermeland said would help him in his goals is his competitive nature and spirit. He believes that his competitiveness will push him to be the best superintendent he can be.
With the first quarter at his new school district complete already, Jermeland has already shown that he can hop in the saddle and lead the Mustangs down the right path.