Band, choir hold first concert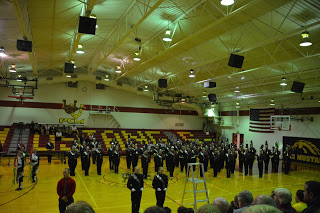 by Drew Johnson
The audience listened in awe as voices from the PCM Choir filled the room. Under the direction of Mr. Roco Contini. The choir sang "Moses and Daniel," "Your Love Was a River," "Requiem," "Verduron," and "Brother," with soloists seniors Michaela Uhlenhopp and Johanna Baker and junior Graham Davis. The choir's All-State group also performed a song entitled "O Filii et Filiae".
"I thought the concert was excellent, especially for being the first concert of the school year. I thought the choir sang with great musicality and expression, as well as passion. I think we can do a little better about having tall, classic sounding vowels, so that will be a big focus for this upcoming concert," Contini said. "Other than that, I was very pleased with how the choir sounded last night. If this is how they sound after just two months, then I'm so excited for the rest of this school year."
After the choir finished, It was the band's turn to perform. They came marching in from every entrance as the drum line rattled off a cadence. The marching band, under the direction of Mr. Ben Varner, played their show entitled "Journey of Man".
"The choir did an excellent job of singing musically, and I was emotionally moved by what I heard. The band portion of the concert was very energetic and rocked the gym with sound. The pacing of the concert was excellent, and I was very proud of both groups," Varner said.
Did you miss the fall concert? Get your music fix at the winter concert on Monday, Dec. 14, at 7 p.m.