PCM Marching Band receives division 1 rating at State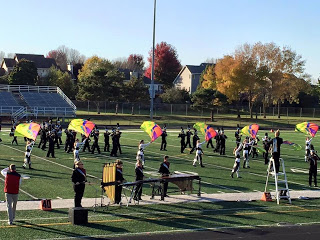 by Drew Johnson
This last Saturday, Oct. 17, the PCM Marching Mustangs received a much-deserved division 1 rating.
The State competition was held at Pella this year, and it was a cold one, with temperatures reaching as low as 30 degrees that morning. The color guard broke a record, earning a score of 89 out of 100.
After State competition, the band headed to Ankeny to compete in a second competition. They got third place behind West Marshall and Eddyville-Blakesburg. Last week's competition at Urbandale ended the same way.
If you haven't been able to see the Marching Mustangs performance yet this year, you're in luck, because they will play their final show Friday, Oct. 23, at  PCM's home football game against North Polk at 7:30 p.m.