Henning's love for Volvos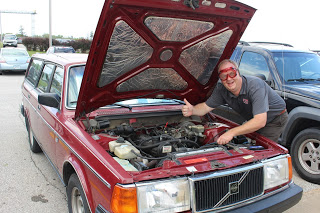 by Drew Johnson
You may have noticed Mr. Matt Henning's slick new set of wheels out in the school parking lot, but do you know the backstory? He is currently cruising in his 1987 Volvo 245 dl. That vehicle right there, ladies and gentlemen, is the Cadillac of all cars.
We all know that Henning is an interesting guy, but his cars are as plain and simple as they come. Most of us want the newest car or the one with all the bells and whistles, but Henning just wants something that will get him from point A to point B, and thats exactly what a Volvo does. He has owned 15 Volvos throughout his lifetime, none of which were new.
His philosophy is simple: buying new cars are bad investments. They depreciate quicker than older cars and are expensive to insure.
Henning has had a lot of fun with old cars. "The MG Midget is like a little sports car, and you should've seen me in that thing. I was like a monkey on a coconut. It was a lot of fun," Henning said.
When asked what he likes about Volvos, he said, "They're just no-nonsense cars, the old ones, anyway. They don't have a lot of fancy things on them, and they're really well built. In fact, the first gas-powered passenger car to reach one million miles was a Volvo '66 P1800S" Henning even owned a Volvo that had nearly 500,000 miles on it.
"For someone like me who can work on their own car, Volvo is a good choice, but it's not everybody's cup of tea," Henning said. Being able to fix his own cars makes buying used cars very inexpensive.
If you're wondering how he stumbled across his new ride, this is how it happened. "The guy I bought it from lives in Pella, and every time I drove by it, I would comment on it about how much i like it.  so when I saw the for sale sign on it, one day I told my wife. I thought that she would say no, but she said I'd better call!"
His car was definitely a steal, costing him only $1,200 dollars. His new Volvo is quite the head-turner.