PCM breaks Bears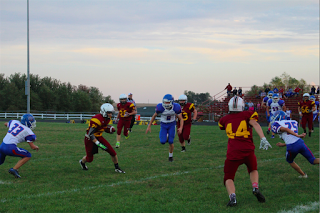 by Chance Palm
Bodies were flying on Thursday night, Oct. 7 as the freshman Mustangs galloped to another win 42-6 over the BGM Bears at home. Or, as legendary freshman running back Olin Meinders put it, "Execute. Execute. Execute. It is all really about execution. And we gave 110-percent into execution. And we executed."
The tremendous win did not come easily, though. PCM had a struggle in the first half, only putting up only 12 points on the board.
Critically acclaimed corner freshman Bo Van Wyngarden said. "It was the really close game in the beginning, and then we started scoring."
The backup quarterback Cade McCombs said, "Well, we came out in the third quarter, and intensity was high.  Reed [Worth] was throwing bombs." Worth's passes were perhaps more accurate than Peyton Manning's. Worth put up four touchdowns and more than 200 yards. Although Worth's incredible arm led the Mustangs in the right path, it was the team that really got PCM the win.
As McCombs said, "Brycen Rogers was making tackles, and what really made the team feel wholesome was Isaac Telfer's incredible hit."
Calling the shots that lead to the win were Coach Peter Thomas for the defense and Coach Jeff Shannon for the offense. Both coaches did a great job, Thomas only allowing six points, and Shannon putting up 42 on offense.
"We had a little lack of focus to start the game, but then we got some backups in, and it really turned the game around," Shannon said.