Round two at home: One girl, one boy finish in top five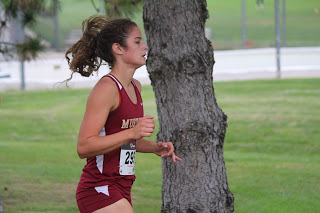 by Taylor Burns
Just like last year, there was one girl and one boy who finished in the top five at the home cross country meet at Gateway Golf Course on Sept. 24. The girls' team finished second with 53 points, behind Knoxville with 35 points, out of eight total teams. The boys finished eighth out of 12 teams.
"We just had to remember to run our race, and don't let them [the other teams] get in our heads," senior Morgan Novak said. "I would say we had to run the hills hard to do well."
Running at 5:15 p.m., the girls were out to win. With many big schools at the meet, the girls knew they had to push. Junior Jayci Vos, again leading the Mustangs, finished fourth place out of 64 girls with a time of 23:38. The winner overall, a senior from Des Moines Christian, finished in 21:57. A couple minutes behind Vos was sophomore Baylee Smith, running a 25:16 in 15th place, and freshman Megan Townley, also running a 25:16. Townley finished in 16th place, only .40 seconds behind Smith. Also only a couple seconds behind them was junior Rachel Stafford, in her second varsity meet of the season. She ran a 25:23, coming in 17th. Freshman Paytan Schut came in .41 seconds behind Stafford in 19th place. The Morgans stuck together in this race, too. Novak came in 25th running a 26:11, while Morgan Uhlenhopp came in 26th with a time of 26:12. Sophomore Amaya Hartson ran a 27:07 in her first meet of the season, coming in 33rd, with freshman Sara Dudley coming in 35th, running a 27:52. Junior Mallery Downey and senior Mallory Bell came in 46th and 55th, finishing with times of 30:23 and 32:37, respectively. Senior Kiara Kappelmann was taken out of the race because of shin injuries.
The boys started at 5:50 p.m., and they were also out to get some of those big teams.
Like Vos, junior Chris Ellens again led the team in fifth place with a time of 18:52, out of a whopping 127 runners. Sophomore Blake Lee ran a 20:03, coming in 22nd place. Senior Trent Howard came in 39th, running a 20:46. Sophomores Brady North and Noah Henkenius ran a 21:35 and 22:14, finishing in 55th and 62nd place, respectively. Junior Mark Bruxvoort came in a couple seconds after Henkenius with a time of 22:40 in 69th place. Sophomore Caleb Peter came in 78th with a time of 23:01, with senior Andres Vargas right behind him at a time of 23:06 in 85th place. Sophomore Bradley McClellan and senior Max Van Gorp came in 90th and 98th, running a 23:28 and 24:03, respectively. Junior Braden Phifer came in 102nd with a time of 24:20, with sophomore Jonathan Heath finished running a 28:27 in 124th place.
"As a team, we've been training hard and working on pace work. As the year goes on, I think our team gets more competitive, too, and that really helps our middle group of runners because they try to beat each other," Ellens said. "We've come a long way already from the start of the season, and hopefully we will continue to get better."
JV and varsity teams run Monday, Oct. 5, at Norwalk at 4:30 p.m.