PCM beats Davis County in mud bath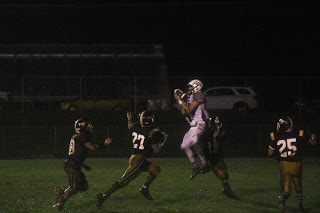 by Gunnar Davis
Neither rain nor Davis County could stop the PCM Mustangs' football team when they traveled to Bloomfield on Sept. 18. The PCM Mustangs defeated the Davis County Mustangs 37-0.
The weather was not good leading up to the game. In fact, it had stormed so much that PCM Head Coach Greg Bonnett thought about moving the game to the next day. But the two teams decided to continue with the game that night, leaving the field to be a literal mud mess. Davis County received to start the game but was held to a punt. PCM junior Ethan Thomas then blocked the punt to give the Mustangs good field position. Senior Logan Littrell ran the ball in to give PCM a 7-0 lead.
Davis County fumbled on their next possession, and senior Logan Gilman capitalized on the mistake with a 25-yard touchdown pass to junior Luke Greiner. Another miscue on a punt gave PCM the ball on Davis County's three-yard line. Littrell ran it in to give the Mustangs a 21-0 lead early in the second quarter. Littrell scored again, and a fake field goal pass from junior Sheldon Speers to Greiner put the Mustangs of PCM up 34-0 going into halftime. Senior Chase Wilkie made a 29-yard field goal on the first drive to start the running clock, and PCM coasted through the second half. PCM has been potent on offense and stout on defense, outscoring teams in the past three weeks, 133-26.
"I like the way that our defense has being playing in terms of being physical and flying
around," Bonnett said. "Offensively, I like the way that we've been executing our run game well enough to set up play action, which is making Gilman a more consistent passer."
The Mustangs are now 3-1 on the season and 2-0 in district
play. They take on district rival and number-nine ranked CMB this Friday, Sept. 25, in one of the biggest games of PCM's season. Bonnett stressed that if his team is strong in the secondary, if they can get to the quarterback and if they execute well on offense, the game could go well for the Mustangs.