Girls' first team win since 2002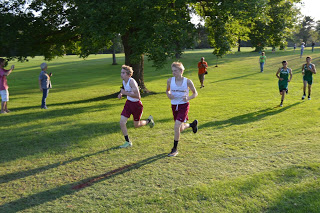 by Taylor Burns
Monday, Sept. 14, was an exciting day for the PCM cross country teams. Running at Pleasantville, Head Coach Eric Karr said, "I asked them to push the pace, and they did just that." The girls placed first, the first time since 2002, out of eight teams, while the boys placed third, also out of eight teams.
The girls ran first. Junior Jayci Vos ran a 22:19, leading the team in fourth place. Freshman Payton Schut wasn't too far behind her, placing fifth, finishing in 23 minutes. Senior Morgan Novak and freshman Megan Townley also placed in the top ten with seventh and eighth place, respectively running a 23:50 and 23:55, respectively. Freshman Morgan Uhlenhopp ran a 24:34. She placed 16th with senior Kiara Kappelmann right behind her in 17th place, finishing in 25 minutes. Freshman Sara Dudley ran a 25:53, placing 20th.
"More important to me than a team win are the times we are running, the way practices have been going and the fun we are having in a very physically and mentally demanding sport," Karr said.
Junior Rachel Stafford participated in her first meet of the season, too. She had been out, due to an injury. She placed first in JV, running a 28:24. Also running JV were junior Mallery Downey and senior Mallory Bell. They placed third and fourth running 28:42 and 30:27, respectively.
"The runners are working hard and supporting each other. Attitudes, effort and times are great, so I can't wait to see what our next training phase brings us," Karr said.
Then it was the boys' time to shine. Junior Chris Ellens ran a 17:35, placing third. Sophomore Blake Lee placed 11th, running a 19:12. Sophomore Noah Henkenius and senior Trent Howard ran a 19:33 and 19:24, placing 13th and 14th, respectively. Sophomore Brady North ran a 20:04, placing 19th, with junior Mark Bruxvoort shortly behind him, running a 20:31 and finishing in 21st. Sophomore Caleb Peter ran a 21:53, finishing in 35th place.

"It [getting third as a team] made us feel accomplished. We have to train hard and listen to Coach to improve our times and places," Bruxvoort said.
There was a JV team for the boys, also. Sophomore Bradley McClellan was first, running a 21:14. Junior Braden Phifer placed fifth, running a 22:30. Senior Andres Vargas wasn't too far behind in eighth place, finishing in 22:30. Senior Max Van Gorp ran a 23:12, placing 12th. Sophomore Jonathan Heath placed 17th, running a 26:34.
Come out and support the boys and girls tonight, Thursday, Sept. 24, at Gateway Golf Course in Monroe, their only home meet of the season. The meet will start at 4 p.m.
"[It felt] freaking awesome. I think that if we keep improving the way that we are that we could possibly go to State as a team," Vos said. "We may not have the most superior athletes, but together, we can do great things."