Don't have an art attack: Art Club is here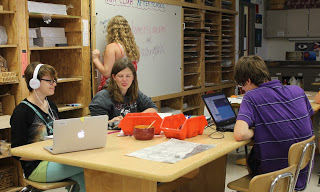 by Ashley Miller
Most of the time, it's assumed that teenagers live and breathe for sports, but that's not always the case. Not all teenagers play sports or even care about sports. PCM Art Teacher Ms. Sara Kirk has realized this and did something about it, so get your paintbrushes and pencils ready.
"I thought it would be fun to start an art club at the school to offer students who don't play sports or get involved in many school activities to be a part of a school club. I discussed it with students to see if there would be any interest," Kirk said.
Students showed interest, and the plan went underway. Kirk, along with juniors Bella George and Wade Sidie,  formulated a proposal and took it to Principal Mr. Scott Bridges, who approved the idea.
"I decided to help out because we don't have a lot of clubs or after-school activities that aren't sports. Not everybody is interested in sports, and I thought that making this club could get more students involved," George said. "I am really excited to make murals around the school."
The club is planning on doing some school betterment projects, such as painting and touching up murals, as well as putting art in other classrooms. They will also be going over other non-traditional art forms that the students don't go over in the classroom due to time. Some,for example, are knitting and pumpkin carving. Students will also be creating their own individual pieces of art that will be sent off to art competitions. "I'm really looking forward to having more art around the school. But I'm most excited for the amount of students who are involved and are excited about participating," Kirk said. "I hope that students get to try some art forms that they are curious about. I also hope they go outside of their comfort zone and try some new things. I also hope they have fun!"
The Art Club is free and open to anyone at PCM. No art experience is required to join, and if you can't join this year, Kirk has stated that she is already planning on doing it next year. If you're a student at PCM and want to join, the club meets every Wednesday directly after school until around 4:30 p.m in the art room.