Contini now writes his music for PCM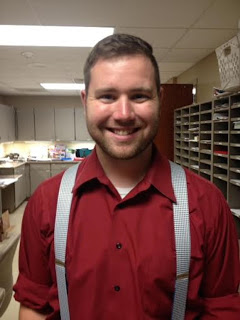 by Drew Johnson
Singing higher than most sopranos, Mr. Rocco Contini joins the PCM High School and Middle School staff as a chorus teacher. He graduated from Ohio University, and then taught for two years at Claremont North Eastern High School before coming here to start his third year of teaching.
"I really like how dedicated the kids are on wanting to sound good, and everyone has a very good attitude," Contini said. His goals as a teacher are simple: "To always be better than the year before."
Contini wanted to become a teacher at age 14, because he had really enjoyed music and wanted to teach. He is really looking forward to the competitions that the choir will be attending in this year. Contini writes his own music for the choir, which takes a lot of arranging and putting things together. Besides writing music, he enjoys, "binge watching Netflix" and "pretending that I can cook." Of all super powers, Contini would want telekinesis. "because you can make yourself fly, other things fly, you can make other people fly when they make you mad. You can also move stuff without getting out of your seat." Can you honestly come up with a better answer?