New era in PCM agriculture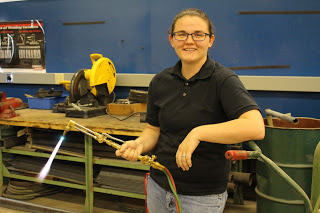 by Zach DeBruin
High expectations were set for the FFA and agricultural program when a new teaching spot opened at PCM. Mrs. Amber Samson hopes to fill the shoes in the district.
Being a graduate of Prairie City Monroe school district gave her a personal connection to the job, so as soon as she heard about the opening, she applied. With a double major from Iowa State in teaching and biochemistry, and with a large interest in agriculture,she was well equipped for the challenge or reforming the FFA and ag programs.
"I was agriculture and biochemistry; then I realized I didn't like science that much. I did like science, but not that much, and there was a lot of math; I'm not a math person" Samson said. After a year of substitute teaching and a year of agriculture instruction at Dallas Center-Grimes, she was ready to come home.
Samson has reasonably high goals for her teaching career at PCM. When asked what her goals were, she replied with, "I hope to improve the curriculum, I hope to get kids excited about agriculture again and I hope that I can get a couple of kids that want to teach agriculture to come out of here, just get the FFA chapter back to where it was."Her opinion on the best part of teaching FFA and agriculture is that living in Iowa and getting students educated on what should be known while living here is important. The excitement and constant change of agriculture also keeps her on her toes while teaching. So while PCM turns to a new page in their agriculture education, a new page is also turned in Ms. Samson's life. Having new blood in the district will hopefully bring up a dusty, worn-out program that needs to be revived.