Smith's sci-fi interest leads to new novel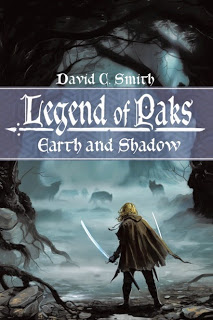 by Taylor Burns
"It wasn't something that he was ever interested in as a kid," Biology Teacher Kristen Souza said.
"He started writing this book when he was in college."
Now at the age of 26, Souza's brother, David Smith, has his own book published. Smith started his book for fun, but for seven years, on and off since his sophomore year in college, he decided to get it finished and published.
His book, "Legend of Paks: Earth and Shadow," is a fantasy fiction novel set in the fictional Kingdom of Paks. A A shorter version of the description on the book on the back says, "In the Kingdom of Paks, a hidden foe has the forces of good turning against itself as the line between friend and foe is warped and chaos prevails above all else. After years of its own wars, the Kingdom of Paks returns to peace, until a near fatal attack changes Bishop in a way that nobody can understand or explain. Bishop's new and aggressive persona sends the kingdom into turmoil and reignites way between the sects. Caught between the love for his brother and war, the young Prince Farren is quickly forced out of his rambunctious adolescent ways as he finds himself in a struggle to gain strength to save his friends."
"I am always trying to be active and involved in as much as I possibly can. There are so many things I have passions for, and I try to follow as many passions as I possibly can," Smith said. "I don't limit myself."
Smith's book was published through a company called Xlibris. He found the company online while searching for publishers. Xlibris is one of the leaders in self-publishing services.
"I just really love to read and come up with stories," Smith said. "I'm a big sci-fi fan, so I decided to start writing a story, and it just evolved from there."
You could say Smith is a "big sci-fi fan" because of all of the different places around the world he has traveled. He spent three weeks in India, then studied abroad in Germany for eight weeks. He traveled around Europe to Turkey, Greece, Italy, Belgium, the Netherlands, France, Austria, the Czech Republic and Germany. He also went to Peru to hike the Inca Trail to Machu Picchu. Smith has also been to a lot of places around the United States.
"I just love experiencing new cultures and meeting new people," he said. "I have also been a big outdoor person, so I love going to great nature locations."
Smith said he has outlined two other books in the series for "Legend of Paks: Earth and Shadow," but he hasn't started writing yet. If his book becomes popular, he says he will start writing the next installments soon.

You can purchase Smith's book through Souza. He is selling them through friends and family for a discount of $15 for a paperback copy and $25 for a hardcover. Otherwise, you can purchase them online for full price at Amazon, Barnes and Noble or xlibris.com. Paperback copies are $20, hardcovers are $30 and ebooks are $4.