Mustangs place third at home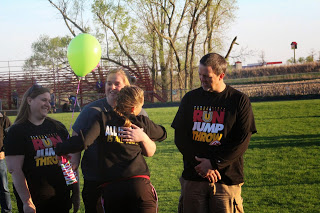 by Ashley Miller
The PCM girls' track team placed third at their home meet on April 27. The Mustangs were only 20 points behind West Marshall, who placed second, and 37 points behind South Tama, a 3A school, who placed first.
"There was some tough competition at tonight's home meet. The girls came out and gave full effort," Head Coach Bridget Martin said. "We were happy with a third place finish tonight."
The team had eleven season bests, some notable ones being: Junior Ashley Van Gorp ran the 400 in 63.26, placing second. Sophomores Tatum Schnug and Mackenzie Messick ran the 100 hurdles in 18.48 and 18.57, respectively. Senior Mackenzie Clarke had a time of 27.89 in the 200. Juniors Emily Hugen and Michaela Uhlenhopp, sophomore Taylor Burns and freshman Ashley Miller all ran season bests  in the 100.
In the 3000, senior Rachel Peter placed first with a time of 11:44.25. Peter also placed first in the 1500, which she ran with freshman Amaya Hartson; their times were 5:20.36 and 5:42.21, respectively. In the 4×200, PCM landed in second place with the team of sophomore Jayci Vos, Hugen,Van Gorp and Clarke, with a time of 1:52.18. Vos also won the 400 hurdles with a time of 68.60.
Martin said, "As we prepare for some big meets coming up, we hope to continue to see times drop. The tough competition we saw tonight and in the meets early in the season is going to be great for us as we head the final meets of the season."
The Mustangs will be heading over to Newton today for the Cardinal Relays. The team will continue to prepare for State at the end of this month.