Nessa Barrett Young Forever tour concert review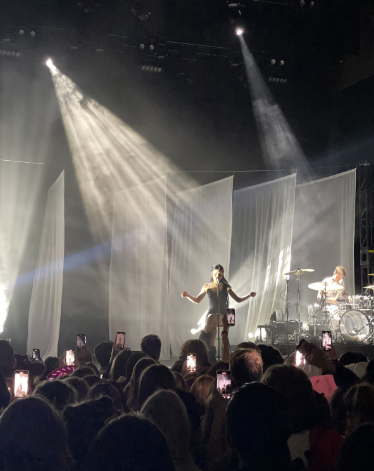 Rising star Nessa Barrett kicked off her multi-stop tour on Feb. 23, 2023 with her debut album Young Forever. The young artist will continue to tour across US cities before making her way to England where she is set to end her first tour. 
If you know anything about me at all, you wouldn't be surprised to know that I made it my mission to be in a crowded little venue seeing this angel sing all of my favorite songs. I love Nessa. Her music speaks to me in a way that I haven't been able to find in many artists before. The thing about Nessa is she is so personal, what I mean by that is she pours her heart and soul into every song she writes. These songs come from her deepest darkest moments and heartaches which is super special because it allows her audience to feel the lyrics and helps to heal those who relate to it. 
The night started off pretty brutal as we stood in the obnoxiously long line for a freezing almost hour long wait to get into the venue. The vibe completely changed as Isabel LaRosa walked out in her iconic biker helmet and absolutely killed any bad vibes that may have been going on in my head. Her brother Thomas LaRosa who plays guitar alongside her and helps to write songs had the most amazing vibe and such a fun stage presence. This man could get the crowd to go absolutely insane by just smiling. He was hypnotic.  Isabel had an AMAZING stage presence, you could tell she was having a blast up there and being herself, which I really enjoyed. Her setlist was perfect, I only knew 3 of her songs before seeing her as the opener but the vibe during her performance made it so fun and easy to enjoy even without knowing all of her songs. During the middle of her set she sang a cover of "I kissed a girl" by Katy Perry and it was probably one the most iconic covers ever. We were all jamming out to it and having a blast, it's the perfect vibe for a show like this. My favorite moment had to be when she closed her set with "I'm yours." This is my absolute favorite song she has put out, the small venue with the red lights just matched the song so well and everyone was going all out for this song. Isabel LaRosa was perfect, couldn't have asked for a better opener to match the vibe of Nessa more. 
Nessa's intro was so simple yet effective, the lights flickered as the intro of the intro of young forever played then switched straight into Nessa opening with "Madhouse" which was the perfect way to get the crowd's adrenaline going. Her energy was insane as she followed it with "Talk to Myself" which I was going insane for because that song is incredibly relatable.  
The way that she transitioned from song to song allowed the show to flow really nicely and I got so excited when I heard the intro to each song. I also have to mention that the way she interacted with the crowd was really special, especially in such a small venue. I haven't been to any concerts before this that were in a smaller setting and I LOVED it. It felt so special and personal.
One of my favorite parts of the show had to be when she performed "Lovebomb. This song is so special to me and hearing her sing it live is something I'll never get over. The lyrics of this song resonate with me in ways I can't explain. Not to mention the fact that she looked like an actual goddess and sounded like an angel. 
Nessa made the Palace Theatre such a safe, loving, and accepting place for all of her fans, you can clearly see that she genuinely cares for each and every one of us. 
"It's OK to be vulnerable here, it's OK to be yourself, let go of everything that is worrying you in the outside world. This is our night where we can be free and enjoy each other." I know that everyone in that room knew they were cared for and loved and that's a really really special feeling. 
"I get you and I know how hard life can be so I just want to say how proud I am for you all to be standing in front of me today despite everything you've gone through." This right here shows you how much of an angel Nessa is. She followed this up with singing "God's Favorite," another song that has helped me through so many obstacles in life.
My favorite moment of the show was by far Nessa's dedication to Coop with "Die First." I loved this moment because as a fan of Nessa we know exactly how important this song is to Nessa and her relationship with her late friend. It's extremely moving to see her share her heartache with the world and know that she understands us.
Overall, my experience at the Young Forever tour was more than I could have ever dreamed of. She made us all feel special, loved, and understood. She brought hope to all of us who are going through tough times and made sure we knew that she was rooting for us. If you are looking for an artist who pours their heart out and expresses vulnerability in a way that is not achieved by many other artists, Nessa is your girl. She is an angel from up above and gave us all the night we deserved.
Leave a Comment
About the Contributor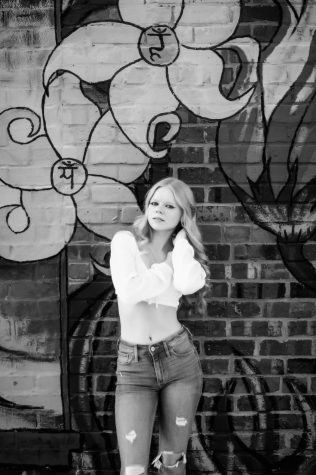 Emma Hiebert, Staff Writer
Hi! My name is Emma Hiebert and I am a senior this year at PCM, this will be my second year in Journalism. I am also involved in cross country and this...