Roland Story pulls out a win at PCM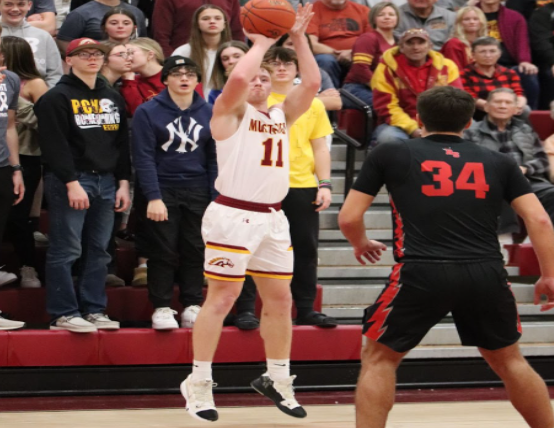 The first time this season Roland Story played PCM's boy's basketball team, no casual basketball fan was entertained. The result was a blowout win by the Norsemen, 64-39 on Dec. 20. Then the two teams went their separate ways, Roland Story tearing through the month of January to get their record to 18-1 while PCM (6-13) limped by with only three wins. Then last Friday, Feb. 3, the Norsemen traveled to Monroe to face the Mustangs on senior night. PCM had only two players recognized, August Stock and Grant VanVeen, to go along with manager Gabe Graber. 
Ahead of the game, Stock shared his thoughts on being a senior in basketball going into senior night. 
"Honestly, it's a little sad," Stock said. "I just hope we can have a fun last home game, whether we win or lose."
After the girl's basketball game, senior night was done with little emotion by the boys, anyway. Meanwhile the girls could not hold it together as they just beat the No. 13 ranked in the state Roland Story 54-36. Soon everything was over and pregame warmups and eventually the game started, just business as usual. The game started as an explosion of offense from both teams and the first quarter came to a close with the Norsemen claiming a 15-14 lead. PCM head coach Fred Lorensen talked about how his team played postgame. 
"It was a really entertaining game from where I was watching," Lorensen said. "We battled well with them and they have a really nice team. To be playing well with a team like that was good for us."
Then the second quarter started and it was much of the same, but towards the end Roland Story went on a scoring run to take a 35-27 lead going into halftime. A couple minutes into the third quarter, the Mustangs were running their offense when Kaleb DeVries passed the ball to a wide open Jacob Wendt in the lane, who threw down his first career dunk. The crowd erupted in cheers. Wendt finished with 23 points, nine rebounds and four assists. PCM outscored Roland Story in the third quarter but still trailed 52-57 with eight minutes to play. 
"Throughout the game our attitude and effort has really improved," Lorensen said. "We just seemed to play so much harder tonight. Everyone was positive and we have really improved on that this year."
The fourth quarter cooled off the excitement as the Norsemen had a 9-8 advantage to seal the 66-60 victory and handed PCM their thirteenth loss of the season. With about 90 seconds left, Lorensen took out VanVeen and Stock for the last time. As they high fived their teammates, they received a standing ovation. 
"It amazes me how fast time goes by and I remember them as freshmen and then there they were tonight," Lorensen said. "I hope they learned some lessons along the way that will help them as they move on."
PCM's next game is tonight at East Marshall at 7:30p.m. After that, playoffs begin on Monday, Feb. 13.  
"I just hope soon we realize that we can be pretty good," Lorensen said. "We are a better team than our record shows and I have seen us get better over the season." 
Leave a Comment
About the Contributor
Gabe Graber, Website Editor


My name is Gabe Graber and this is my third year in Journalism, this year as the PCM Outlook website editor. I am a senior at PCM and I am involved...