Business still buzzing: Madie Reed reflects on her entrepreneurial endeavor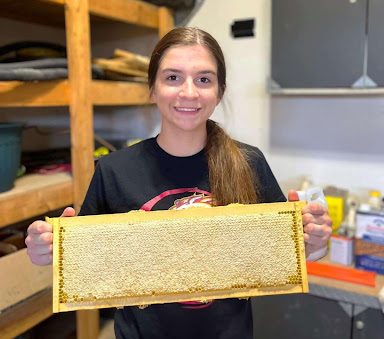 A lot has changed for PCM High School senior Madie Reed in the last two years, but one thing has remained constant in her life: the buzzing of bees in her backyard. She is still running her business "The Mad Bee" that sells bee-produced products like honey, beeswax candles and chapstick. Reed retold the story of how she got the bees in the first place. 
"When I was in like 8th grade, I went to go visit my aunt's bees. After that, I decided that I was interested in them, found my new passion, you know. So, I applied for a scholarship through the Iowa Honey Producers, and I was chosen. I am glad I have the bees," Reed explained.
After acquiring the bees and completing her first honey harvest, Reed was shocked by how much honey they had produced, so the idea of selling it popped into her head.  
"I had a lot of honey that I didn't know what to do with. So I figured, you know, sell it. I'd say the honey sales have kind of slowed down now," Reed began. "People still want the honey, but I haven't sold as much the past couple years because winter is always hard on the bees. We probably lose about 1-2 hives per year." 
Reed's workload for the bees varies from summer to winter, with the bees requiring about three hours of care each week in the summer and only occasional check-ups during their slow periods in the winter. Despite the workload, she is glad she got the bees because they gave her insight on what running a business is really like. 
"My favorite thing about running 'The Mad Bee' is really expanding my knowledge and experience in the world of business. Selling, marketing, all those things. I feel like I am better prepared for the real world now and could probably run my own official business someday," Reed said.  
Due to the fact that she is a senior, Reed and her bees will be parting ways next fall when she heads to the University of South Dakota. However, she already knows who is going to be taking over the beekeeping operations. 
"I am giving the bees to my mom. She knows this, but she's not happy about it," Reed elaborated." I don't think she wants to take them, but she's not going to mind it. It is a lot of work for one person."
While the future of "The Mad Bee" depends on how well her mom keeps the bees alive, Reed is confident that her mom will sell honey in one way or another and the business will continue running. 
"She said she is bringing me back in the summer to harvest it," Reed began. "Honestly, running the business had its ups and downs. But, at the end of the day, I am glad I got the bees and started it because it was pretty fun, and I learned a lot."