Iowa basketball: a roller coaster week in early December
The Iowa Hawkeye Basketball team had one of the toughest weeks a team can play during the week of Dec. 4-11. They faced off against No. 15 Duke at Madison Square Garden, No. 20 and rival Iowa State at home and now No. 22 ranked Wisconsin at home, all of this in the span of six days. The team's leading scorer, Kris Murray, only played against Duke and was reported to have played through an ankle injury in the game. Lots of interesting things happened such as Filip Rebrača playing his best game as a Hawkeye vs. Iowa State dropping 22 points and 11 rebounds, or even the McCaffery brothers scoring a combined 41 points vs. Wisconsin. It was a week to remember to say the least.
Dec. 6, Iowa played the Duke Blue Devils at Madison Square Garden in the Jimmy V Classic in a game that started at roughly 9:30p.m.. The start time got pushed back all the way into the night due to the game prior, Illinois vs. Texas, going into overtime. This was a very hyped-up game for the fans of Iowa from the start of the season and it seemed that a win would be attainable as Duke appeared to be an underwhelming team compared to what the Hawks would expect. But Iowa came out with little firepower then most would expect and Duke used their athletic ability and stellar defense to shoot down the Hawks hopes as Kris Murray, playing through a lower leg injury, only scored eight points but played 38 minutes. Iowa shot just 3/16 from three and that's what really killed them. This seemed like a game where they just didn't play well but the final was only 74-62 in favor of Duke.
Dec. 8, the Hawkeyes looked to rebound off of an underwhelming performance with a home rivalry game vs No. 20 Iowa State. The game started at 7:00p.m. with a nearly packed Carver-Hawkeye Arena in Iowa City. The Hawkeyes came out hot on a 15-0 run to start the game, that run would extend to 29-8. This level of play surprised many Hawkeye fans after the rough outing just a short 48 hours before. Iowa was just simply more physical and played better in every way, they shot a hefty 50 percent from three while ISU shot just 13.6 percent. Tony Perkins threw down a monster dunk with 12:15 to play that truly put the nail in the coffin. As was mentioned earlier, Filip Rebrača finished with 22 points and 11 rebounds, Connor McCaffery finished with 14, Patrick McCaffery with 13, and Tony Perkins had 10 points. Six of the 10 from Tony came in the first five minutes of the game with two early threes. The final was 75-56 in favor of Iowa.
Dec. 11, Iowa looked to end the week with a winning record at home vs. Wisconsin. The game tipped-off at 5:30 PM from Iowa City. Wisconsin was a team that was on the brink of being ranked and definitely a worthy opponent for the Hawks. With Kris Murray still out with an ankle injury and Ahron Ulis out with a hip injury, Iowa would have to look to have another good three point outing from role players to find their offense. Wisconsin came out solid with a 6-0 run to begin the game but Iowa continued to fight back keeping it within range. Both of the coach's sons were playing at the top of their game with Patrick finishing with 24 points and Connor with 17. It was a dogfight to the very end with Wisconsin going up eight points with 55 seconds to play. All of the sudden Iowa goes on an 8-0 run with Patrick hitting a three with 14 seconds left to tie the game at 60. Iowa would proceed to get a stop and send the game to overtime. In overtime Iowa held a lead for majority until Wisconsin tied it with 1:55 left. Patrick McCaffery would make another huge play with an and-one to take a three point lead. But back-to-back scores by Wisconsin on a three and a hook shot gave the Badgers their first lead of overtime. Two bad turnovers from Iowa caused a self combustion and Wisconsin looked as if they could put the Hawks away, but Tyler Wahl of Wisconsin missed both free throws giving Iowa a chance to tie. The Hawks elected to go for an easy two but after the make by Filip Rebrača Wisconsin proceeded to get a breakaway dunk with 5 seconds left. Patrick McCaffery got a great look from three in the final seconds but it rimmed out and Wisconsin would win 78-75. 
It was a memorable week for the team and a lot was learned from this tough stretch. Hopefully the Hawks can grow from this and improve to be able to win a close game like that or bring a top tier team down the wire. But for now they just have to keep pushing forward into Big Ten play.
Leave a Comment
About the Contributor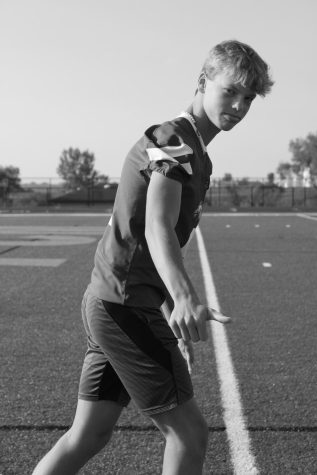 Riley Graber, Staff Writer
My name is Riley Graber and I'm a sophomore at PCM high school. This is my first year in Journalism and I'm a staff writer. As far as activities go,...