Harry Styles Love On Tour outfit review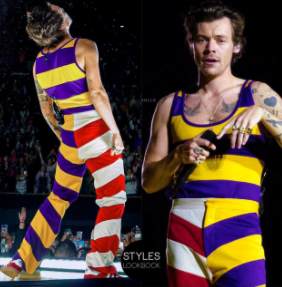 If you don't know I am a HUGE Harry Styles fan, like to the point where it is at times a little concerning. The amount of time and money I've spent on this man is outrageous. Would I change anything about this obsession? No, absolutely not. Harry has been playing Love On Tour shows since Sept. 4, 2021 and as of right now will not be done with the tour until July 22, 2023. So basically this tour is never ending and I think I'll be going to Love On Tour shows till 2060. If you've never been to one of his shows or don't keep up with them, a Harry show is pretty much just one big fashion show, I mean the man is always decked out in his full Gucci outfits not to mention for fans it's the biggest fashion moment of the year. The fact that I stay up until midnight during the LA shows watching Instagram live videos that look like they were taken on my ipod 4 just to see his outfit makes me highly qualified to review some of his outfits throughout the tour so here are five outfits and how I feel about each one!
Coachella Rainbow Sequin Jumpsuit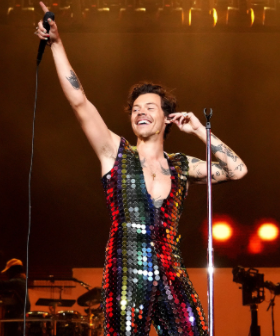 I don't know if this is technically part of HSLOT but it's during the era so it counts. This outfit is everything I needed and more, it perfectly captures the vibe of Harry and was definitely Coachella worthy. This is the type of outfit that will literally go down in Coachella history. It's that good, I mean it's custom Gucci. How could this not be the most amazing outfit I've ever laid eyes on? It's giving Freddy Mercury vibes and I'm LIVING for it, the fact that this was in April and I'm still obsessed with it says a lot. The outfit, the energy, and the vibes of this show were unmatched but I wouldn't expect anything less from this man.
LA Harryween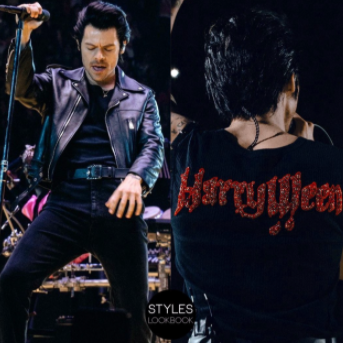 Harry loves to surprise us,  he hinted at dressing up as something beetlejuice related so when he rose from the stage as THE Danny Zuko I was SHOCKED. This was something I didn't know that I needed until it happened.You will not believe the excitement I had when I saw the band walking onto the stage all dressed as characters from Grease, like imagine me watching an instagram live at midnight literally screaming (I'm a bit dramatic). The whole band captured the characters perfectly and the bedazzled "Harryween" on the back of his jacket and shirt was ICONIC. This was probably my second favorite show, he did a tribute to Olivia Newton-John with an incredible cover of Hopelessly Devoted To You, the fans outfits were spectacular, and the signs people brought made the show so much more amazing. A lot of people were disappointed with his outfit choice because of last year's unbeatable Harryween outfits at MSG but personally I thought this was such a fun costume and he looked like he had a blast.
LA Night 10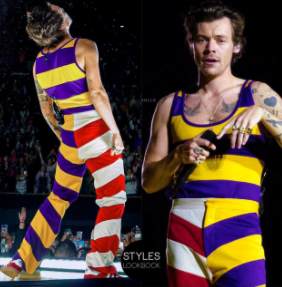 Harry… listen… I love you, you're a fashion icon. I love almost everything you wear but this, this is just not it.  When I said Harry never misses I was wrong this one was the biggest miss yet, LA was doing so well with the outfits and then he brought this out. Personally there is nothing about this outfit that I like. Does he still look good? Yes. I mean I thought this man looked good as a squid so maybe I shouldn't be talking. This outfit is giving Lakers game at 3:00pm. and a Christmas party at 6:00pm. vibes. the patterns just don't go together and it's something I never want to see again. Respectfully I hope he threw this out of his closet right after. Still love you Harold peace and blessings:)
Toronto night 1 HS outfit 
This may be controversial but personally this outfit is one of my favorites, it's simple but is still fun which I love. Again, this is a custom Gucci outfit which you'll notice is a recurring theme for Harry. The sparkly HS initials contrast with the red so nicely and the shape and colors compliment him so well. Two of my best friends were at this show and let me tell you I was so jealous that they saw this outfit in person. This is a perfect example of sometimes less is more, simple but so effective. 
Chicago night 2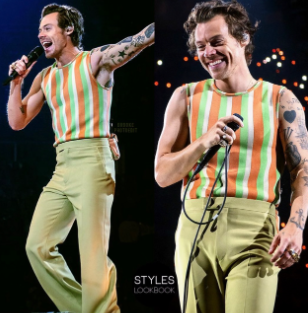 Now I will say this review is slightly biased because this was the show I went to but these are my opinions so it doesn't really matter. I LOVED this outfit, orange and green are my two favorite colors and Harry pulled them off so well. It's giving a little bit of Irish flag vibes but like honestly why not? The energy he had this show was INSANE, when he came on stage I let out a scream so loud that my mom looked at me in terror. I'm pretty sure I almost died multiple times that night out of pure joy and shock. There must have been something in that Chicago air because throughout the entire residency his outfits never missed. Although I didn't get to hear medicine live, the outfit made up for it. 
LA Night 1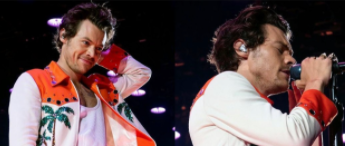 This is iconic, I simply love everything about it. The jacket captures the California vibe as well as giving In-N-Out vibes and I'm fully here for it. Honestly maybe I'm just biased because I'm in love with California but LA won even after the Lakers X Christmas jumpsuit fiasco. Harry ate during the LA residency literally kept me sane.
Leave a Comment
About the Contributor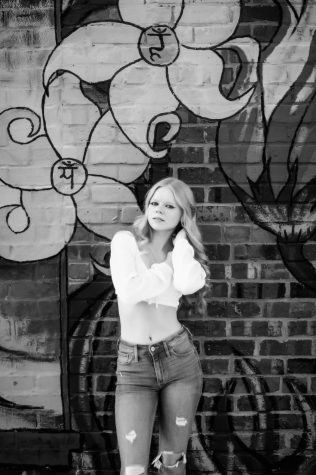 Emma Hiebert, Staff Writer
Hi! My name is Emma Hiebert and I am a senior this year at PCM, this will be my second year in Journalism. I am also involved in cross country and this...