Meet a Mustang: Rylie Muck!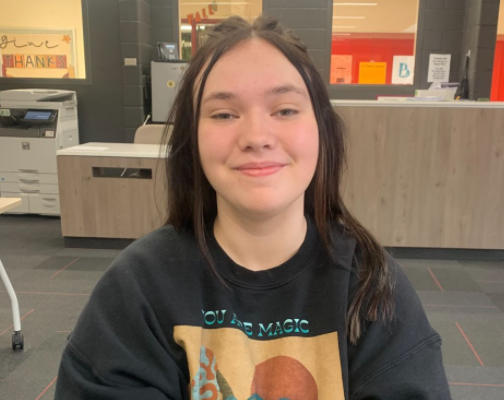 Q.What activities are you involved in? 
A. Volleyball and Track .
Q. What do you plan to do after high school? 
A. Go to college to become a teacher. 
Q. What is your dream job or life goal? 
A. Become and elementary school teacher or be rich. 
Q. What are you currently watching? Or the last movie you've seen? 
A. Where the Crawdads Sing.
Q. What's your favorite memory from high school so far? 
A. Addi Steenhoek scaring me on the way to our team meeting for Volleyball.
Q. If you could live anywhere in the world, where would it be? 
A. Bali , Indonesia. 
Q. If you had a time machine where/what time period would you travel to? 
A. 70's for the hippie time period. 
Q. Window seat or aisle seat? 
A. Window, you are crazy if you pick aisle. 
Q. How hot is too hot? (temperature)
A. 75 is too hot.  
Q. What's your biggest pet peeve? 
A. People that mimic other peoples personalities.
Q. What is your spirit animal? 
A. Kangaroo because they can fight on command. 
Q. What's your favorite kind of gum?
A. White Arctic Fresh. 
Q. What is your go-to karaoke song?  
A. If You Wanna Be My Lover by Spice Girls.  
Q. How many pillows are on your bed? 
A. 6 or 7. 
Q. What store would you rob if you had the chance and what would you steal? 
A. Walmart during Black Friday or Valentine's Day season and I would steal the big teddy bears for 90 dollars. 
Leave a Comment
About the Contributor
Rylee Gallaher, Staff Writer
My name is Rylee Gallaher and I have been in Journalism for one and a half years. I am involved in throwing on our PCM Track and Field team. A few things...