PCM's Teeter makess it to State Cross Country meet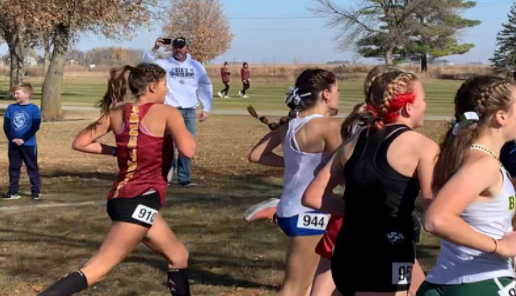 PCM freshman Abi Teeter was just one of the hundreds of runners ready to compete in State Cross Country this past Friday in Fort Dodge. Teeter was ready to challenge herself by running with the best. She placed 75 with a time of 21:19.32 out of 137 runners not including the 3 runners that did not finish. 
Before the race Eric Karr stated that this was an absolutely amazing season. 
"As a team it has been absolutely fantastic and it has been a really really fun year. Working hard. No real big issues, no big devastating issues that have taken points from us. " 
One thing that Karr was hoping for was a new personal record before the season ended. 
"Abi's personal record this season is a 21:02 at State Qualifying. I just think that for Abi,  needs to just get here and there are expectations in terms of can she medal? We already knew that there were fifty people faster than her at the State Qualifying meet. It's one of those things where we can hope to get one last pr this season, learn the course and get back here in the future and hopefully bring a team with her at some point, but really get the experience." 
One of the biggest things in Cross Country is the start. It is important to get out and not be boxed in. In the start, Teeter was placed next to the number 2 ranked girl in the race. With the finish one goal that they had was to beat the girls in front of her even if it is more than one girl. 
"The start is going to be a real big deal, get out and not get boxed in and she is next to the number 2 ranked runner." Karr stated. "Understand what the finish is and compared to other meets you might have twenty people racing for that spot instead of one." 
One of the best things to listen to during a race would be the fans cheering for everyone not just their team and seeing all of the fans from your school supporting. 
"The amount of noise there was, everyone was cheering for everyone, like the fans. There were a lot of people that were able to make it up here." 
Teeter talked about one thing that she needs to focus on next year would be hills and not so much running up them, but going down. 
"One thing is that I need to work on the hills. Going downhill I put my heels down instead of letting myself fall." 
Teeter knew how difficult it was going to be to compete at State, but she was prepared. 
"I knew going into it there were some many good girls that it was going to be hard to place. Normally I can count on being top 15 and here you can not do that."
Leave a Comment
About the Contributor
Rylee Gallaher, staff writer
My name is Rylee Gallaher and I have been in Journalism for one and a half years. I am involved in throwing on our PCM Track and Field team. A few things...