Meet a Mustang: Lizzy Hildenbrand!
Elizabeth Hildenbrand  – Freshman at PCM
Q. What activities do you do? 
 A. Band and Yearbook 
Q. What's your favorite color? 
 A. Black because it's dark like my soul
Q. What are some things you like to do outside of school?
 A. Sleep and hang out with my niece and nephews 
Q. Who's your favorite teacher and why?
 A. Mrs. Grett because it's fun in her room and she plays the rubber ducky song 
Q. What are your hobbies?
 A. Making keychains 
Q. What is your favorite movie?
A. I don't have one 
Q. Do you think water is wet?
 A. Yea? 
Q. How tall are you?
 A. 5'4 ½ 
Q. What's your favorite animal
 A.  Cats because they sit there and cuddle with you even when they don't want to 
Q. What kind of music do you listen to? (favorite artist?)
 A. Mainly pop and country. Shaun Mendes 
Q. What's a pet peeve of yours? 
 A. Chewing loud and being obnoxious 
Q. What's your favorite class?
 A. English because it's in the middle of the day. 
Leave a Comment
About the Contributor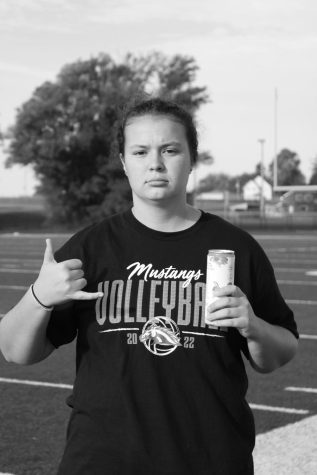 Eleigh Davis, Staff Writer
My name is Eleigh Davis. I am a senior at PCM high school. I have been in Journalism for 2 and a half years. Outside of Journalism, I am involved in marching...