Diamond Trail FFA members receive American Degree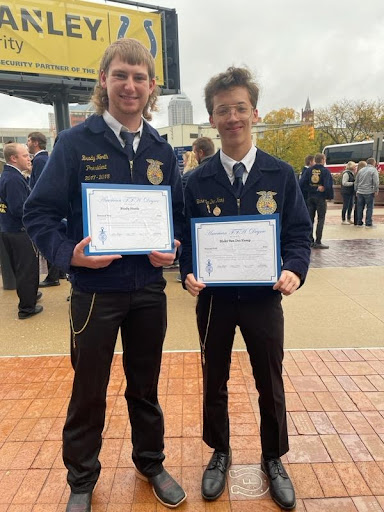 Two Diamond Trail FFA chapter members received the American Degree award at the national FFA convention in Indianapolis on Oct. 29. The Diamond Trail members that earned the prestigious honor, Brady North and Blake Van Der Kamp, graduated from PCM. What makes the award so special is that very few FFA members achieve it. In 2021, only 3,863 FFA members were awarded the American Degree. This is out of more than 760,000 members across the country and Puerto Rico. The award is also difficult to get for other reasons, as Diamond Trail adviser and PCM Ag. teacher, Amber Samson, explained.
"Very few people get the award. Few people qualify and fewer apply for it. It's a pretty rigorous application process. I've been teaching for eight years, and these are the first kids I've had apply. I think it helped that I followed the three circle ag. model and pushed the SAE more than most advisers," Samson said.
The three circle ag. model is a model used by the FFA to teach students about agriculture and leadership. The circles are classroom and laboratory instruction, leadership development and experiential learning. Van Der Kamp also expressed the importance of SAEs. 
"Over the past six years, I've learned as many lessons as there are threads in the FFA jacket. One of those lessons being that the FFA and the high school are like a seed. When we enter the FFA and high school, we are young and inexperienced. We need to be cultivated through leadership experiences, opportunities, failures and successes. For me, that included events like the FFA events like the Chapter Website CDE, Washington Leadership Conference, and serving as a State Officer for the Iowa FFA Association. Thus, now like any seed there is time to sprout, which may be equated to graduating and taking off the FFA jacket for the final time, Van Der Kamp said, "So to summarize the role PCM and FFA have played in my life could be described as cultivation. It gave me the skills and experiences I needed to succeed. It helped afford me the ability to serve on Iowa State University's Student Affairs Advisory Council, CALS Honor Committee, and even the AGEDS Diversity, Equity, and Inclusion Committee. PCM and the FFA have provided me with leadership skills, passion and a career."
The FFA also helps students to build relationships with people that they might not otherwise. The level of respect that FFA members have for the organization and other members is impressive, and it shows in the way that they talk about each other. 
Blake has gone along ways in FFA and has gotten Diamond Trails name out in Iowa. Most American Degree recipients that are in each state's association wore the state association FFA jackets. Blake being a state officer, still wore his Diamond Trail FFA jacket to support his beginning place in FFA. I have a lot of respect for Blake for doing that," North said.  
American Degree award recipients have to go through a lot of work to get the degree; there are many steps to take on the path to becoming a recipient. Most recipients take several years to complete all of the work they need to qualify for the award. 
"In order to get that award they had to get the first three degrees in FFA. They got their Greenhand award their freshman year, as a second year they got their Chapter degree, and their third year they got the Iowa degree, and those all have their own requirements. Then they had to wait a year out of high school and apply for their American degree. That requires maintaining a record book on their SAE, or supervised agricultural experience. Brady's project was working on the family farm and restoring antique tractors, and Blake's was working at Goldie's and agricultural education and communication. Basically he traveled the states and met with FFA advisers to learn about their chapter. SAEs are all about the kids doing some career exploration. It allows them to explore their options before college," Samson said. 
Samson worked with both alumni while they were at PCM and remembers them fondly. 
"Brady very much was into Ag; There was no doubt that he was going to do it. Sometimes he needed a push, so he could see that he had the ability. A lot more reserved kid, but the things he got into he picked up very easily… The thing I remember most about having Brady in class was that he was extremely thoughtful and kind to other people in class. He was an old soul and some people did not get to see the goofy side of him but he had a great laugh," Samson said, "Blake was kind of similar to Brady but on the other side of the spectrum. He was reserved but more outgoing and thought a lot about things. He was like a momma duck. Once he invested some time in something; once you got him hooked, he was hooked. We called it the Blake look. Glasses down the nose, like an administrator… I had him all four years here at PCM. Super intelligent kid. Things just kinda came to him natural. I did not think he really wanted to be in the FFA or Ag. classes at first, but it seemed like he fell into them. Real go-getter oce he found out he liked them. He would even bring things up that I didn't know about."
Very few PCM graduates have ever achieved the American degree award, and the respect for the FFA and PCM from North and Van Der Kamp is evident. 
"The last individuals to have celebrated this award from PCM and the Diamond Trail FFA Chapter graduated around a decade ago. Thus, this is a great honor to have as an alumnus of PCM and now alumni of the FFA organization. It is a capstone to all the things I've accomplished, people I've met and lessons I've learned. For that, I am thankful," Van Der Kamp said.
  North currently lives in Monroe and attends DMACC, and Van Der Kamp is a sophomore at Iowa State. North's father is also a recipient of the American Degree. Both students left a big impact at PCM, and Samson is thankful for having had them as students. 
"Thanks for always pushing me to be a better teacher and adviser, but extending grace when I was not," Samson said.