Senior Award and scholarship recipients (Full List)
Senior Award and Scholarship recipients:
Iowa State Rifle & Pistol Association: Gabe McDonald
The Dean North Scholarship: Garin Padget
The Friends of the Neal Smith National Wildlife Refuge Scholarship: Connor Bennett
Monroe Kiwanis Club: Allison Burkett, Celeste Wagaman
Leighton State Bank: Gabe McDonald, Riley Hjortshoj
American Legion Fred Slayden Post #363 Scholarship: Caleb Duinink
American Legion Fred Slayden Post #363 Riders Scholarship: Hannah Birkenholtz
Kayla Boner Memorial Scholarship: Emma Houser
Mustang Mat Club Scholarship: Colby Tool
Altar & Rosary Society, Immaculate Conception Parish: Lupita Gutierrez
Great Western Bank: Lilli Baird
Precision Inc. Sons & Daughters Scholarship: Margo Chipps
Vermeer Charitable Foundation: Connor Bennett
Silver Cords Presentation: Kara Wallace, Celeste Wagaman, Bess Telfer, Allison Burkett, Emma Reed
Ruby Schrader Trust Scholarship: Riley Hjortshoj, Sage Burns
State of Iowa Governor's Scholar Award: Kaeden Strum
PCM Supplies & More: Brian Nicholson
Monroe Women's Club: Kaleigh Pearson
Lawrence Woody & Duane Woody Memorial Scholarship: Greyson Strum
Chuck Wink Scholarship: Celeste Wagaman
Korver Hazelton Scholarship: Abby VanRyswyk, Emma Houser
Bernie Saggau Award: Lilli Baird
Senior Academic Letters: Kaeden Strum, Alex Buswell, Lauran Schut, Erin VanPeursem, Benjamin Kramer, Allison Burkett, Jacki Vos, Taylor Burg, Trevor Buckingham, Kara Wallace, Lillian Baird, Connor Bennett, Austin Alleger, Caleb Duinink, Gabriel McDonald, Adam Kramer, Greyson Strum, Bess Telfer, Dylan Warrick, Gabriel Lanphier, Isabella Ream, Carson Duinink, Emma George, Emma Houser, Abby VanRyswyk, Gatlin Boell, Landon Fenton, Skylar Fraker, Riley Hjortshoj, Avery Young, Celeste Wagaman, Emma Reed, Jacob VanWinkle, Hannah Birkenholtz, Kaleigh Pearson, Kinser Sloan, Evelyn Farver, Colby Tool, Cooper Sloan, Jaden Eighmey, Emilee VerHelst, Jarrett Swan, Kyle Landgrebe, Luke VanWyngarden, Kassidy Block, Bella Stone, Brian Nicholson, Charlize Birkenholtz, Olivia Smith, Jay Meinders, Margo Chipps, Garin Padget, Colton St. Pierre, Andrew Mitchell, Amy Verheul, Jaslyn Jones, Grant Landgrebe, Lupita Gutierrez
Pella Rolscreen Foundation Sons & Daughters Scholarship: Emma Houser, Gatlin Boell
Monroe Women's Club Character Award: Kaleigh Pearson
Prairie City Business Association: Brian Nicholson
Don & Nora DeReus Scholarship: Cooper Sloan
Nelle Schalk Scholarship: Kaleigh Pearson
Metro Waste Science Scholarship: Emma Houser
Metro Waste Ag Scholarship: Riley Hjortshoj
Two Rivers Cooperative: Dylan Warrick, Abby VanRyswyk
PEO Scholarships: Bess Telfer (Prairie City), Riley Hjortshoj (Monroe)
Heart of Iowa Conference Academic/Activity Awards: Lilli Baird, Bess Telfer, Carson Duinink, Gatlin Boell, Celeste Wagaman
Brian Dale Vander Linden Scholarships: Gabe McDonald
Senior Theater Award: Dylan Warrick
Uri Sellers Scholarship: Lilli Baird, Connor Bennett, Caleb Duinink
Top Female Senior Athlete: Emma George, Celeste Wagaman
Top Male Senior Athlete: Andrew Mitchell
Prairie City Lions Club: Kaeden Strum, Alex Buswell, Allison Burkett
PCM Foundation Endowment: Margo Chipps, Emma Houser, Lupita Gutierrez
Chuck & Norma Skinner Memorial Scholarship: Riley Hjortshoj, Bess Telfer, Emma Houser, Margo Chipps, Lilli Baird, Dylan Warrick, Emma George, Bella Ream, Celeste Wagaman, Gabe McDonald, Bella Stone, Colby Tool, Allison Burkett, Gabe Lanphier, Caleb Duinink, Connor Bennett, Brian Nicholson, Gatlin Boell, Kaeden Strum, Taylor Burg, Jaslyn Jones, Andrew Mitchell, Abby VanRyswyk, Alex Buswell, Carson Duinink, Trevor Buckingham, Greyson Strum, Cooper Sloan, Hannah Birkenholtz, Jacki Vos, Jaden Eighmey, Lupita Gutierrez, Grant Langrebe, Kylie Risius, Kaleigh Pearson
College Scholarships:
Morningside University: Bess Telfer (Founder's Scholarship, Morningside Talent Award)
Simpson College: Celeste Wagaman (Honor Scholarship)
Central College: Colby Tool (Presidential Scholarship, Trustee Scholarship)
DMACC President's List: Taylor Burg, Gabe McDonald, Kara Wallace
Grandview University: Greyson Strum (Dean's Scholarship)
Grandview University: Beau Webb (Academic Scholarship, Baseball Scholarship)
Northwestern College: Kylie Risius (Northwestern Scholarship, Cheerleading Scholarship, Music Performance Scholarship)
Northwestern College: Kaleigh Pearson (Academic Achievement Scholarship, Cheerleading Scholarship, Music Performance Scholarship)
Black HIlls State University: Connor Bennett (Buzz Bonus Scholarship)
Kansas State Polytechnic: Trevor Buckingham (Vanier Scholarship, Limestone Award)
William Penn University: Sage Burns (Football Scholarship)
University of Northern Iowa: Gabe McDonald (Panther Impact Award, UNI Business Scholar Award)
About the Writer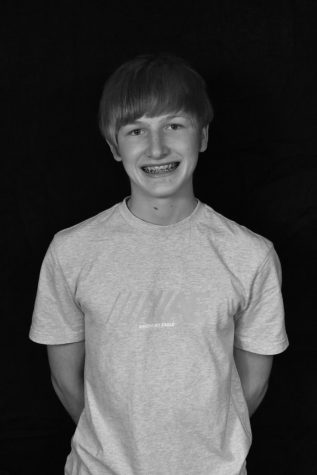 Jack Eighmey
This is my first year in Journalism as a staff member. I'm a sophomore at PCM High School. I am involved in basketball and track. I have a dog named...