Mustangs eye gold at State
As the bus pulled into Eddyville on May 10, the girls' head coach Bridget Martin stood at the front and told her runners something along the lines of, "This whole season you've been preparing a Thanksgiving feast, and now, today, it's time to eat." While it sounds somewhat strange this is exactly what both PCM track teams have been doing. They began training in February, worked through injuries, and ran in the April snow to get to districts with the final goal of State in mind. With a combined fourteen state qualifying events between both teams, they have begun reaping the rewards.
On the girls' side, the team placed second overall with a combined total of 107.5 team points, finishing behind Mid-Prairie.
The Lady 'Stangs had nine automatic qualifiers. Freshman Margo Chipps ran a personal record of 66.11 seconds, which is two seconds faster than her previous in the 400 meter hurdles. She placed first and ranks second heading into the state meet. The sprint medley team of sophomore Lexi Kuecker, junior Morgan Uhlenhopp, sophomore Sierra Foster and junior Paytan Schut ran a huge season best time and new school record of 1:52.79, placing first and ranking sixth. The shuttle hurdle team of Kuecker, Uhlenhopp, Chipps and junior Megan Cowman placed first with a new season best time of 68.72. They currently rank fourth in qualifying times. The 4×200 dropped exactly a second off their previous time running a 1:46.71. The team of Chipps, Foster, Schut and senior Ashley Miller ranks second. The final win of the night for the girls was the 4×400. The team of Miller, Foster, sophomore Kate McCarthy and Schut finished at 4:12.17, ranking fifth.
Cowman had an emotional evening going into the district meet ranked fourth and placing second, sealing her ticket to State in the 100 meter hurdles. 
She ran a personal record time of 16.51. The 4×800 put up a fight to qualify. Sophomores Sayde White, Klaire Jungling and Hannah McCarthy ran personal best splits, as well as senior Baylee Smith, who held off anchor leg Remi Duwa of Pekin on the final 100 to finish in second. Their time of 10:30.97 was a season best time by almost six seconds. Miller also placed second in both the 100 and 200 meter dashes with times of 13.08 and 26.27, respectively.
"Although we are celebrating the successes of this evening, we aren't done yet," Martin said. "We are hungry for more at the state meet. For those nine events, the season isn't over yet; the best is yet to come."
The boys placed third as a team overall with 91 points. Mid-Prairie finished in first and Pekin followed closely in second. The Mustangs broke two school records and qualified five events.
Senior Noah Anderson and junior Preston Van Wyk both qualified in the 100 and 200 meter dashes, finishing 1-2 in both events. In the 100, Anderson had the third fastest qualifying time of 11.13, and VanWyk's time of 11.34 ranks him tenth. Anderson broke the school record of 21.70 in the 200 with a time of 21.66. He won the event and is ranked first going into State. VanWyk finished right after with a new personal record of 22.48 and enters the state meet ranked second in the event.
Juniors Payton Strovers and Wes Cummings teamed up with Anderson and VanWyk for the 4×200. The team placed first with a new school record of 1:31.57. They rank third in the State.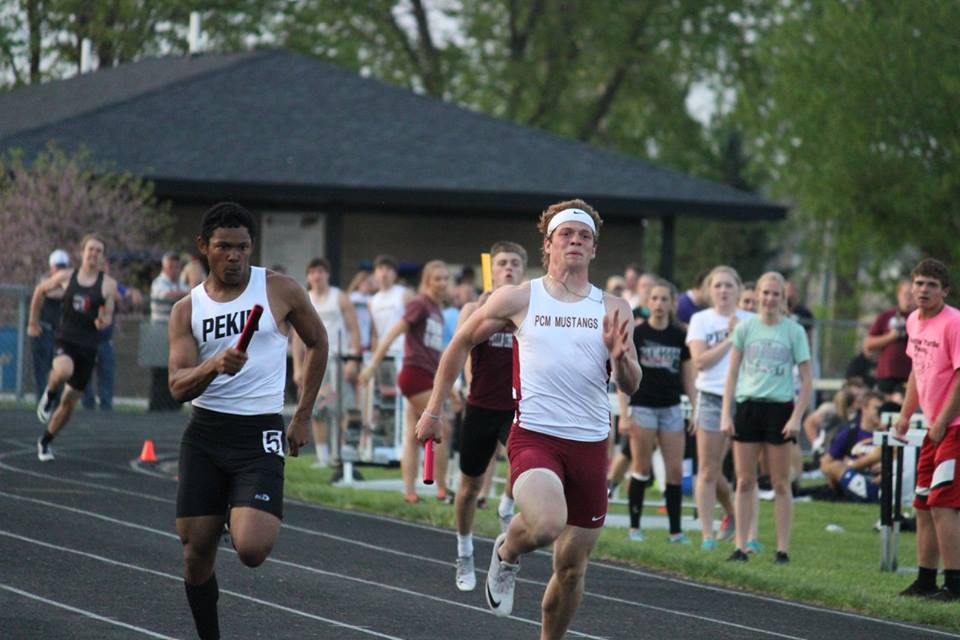 Strovers also qualified in the long jump with a leap of 19 feet, 7.25 inches, placing second. The only wildcard for both teams was freshman Beau Webb in the 1600 meter run. He ran a personal best time of 4:45.26, placed fourth and made it in on time alone.
Today, May 17, the long jump and 200 meter dash prelims begin at 2 p.m. and 4:20 p.m., respectively. Also today, the 4×800 will run at 5 p.m., the 100 meter dash prelims at 6:30 p.m. and the shuttle hurdle prelims at 7:40 p.m. On May 18, the 100 meter hurdle prelims, 4×200, 400 meter hurdles and 4×400 prelims take place. Finals for all prelims take place on Saturday as well as the 1600 meter run and sprint medley relay.