Full team effort brings Mustangs gold
by Ashley Miller
It wasn't just the top-three finishes that pushed the girls' track teams towards a first place finish at the South Tama Invitational on April 19. The team finished the night with 98 team points. West Marshall and Williamsburg finished in second and third with 90 and 87 points, respectively.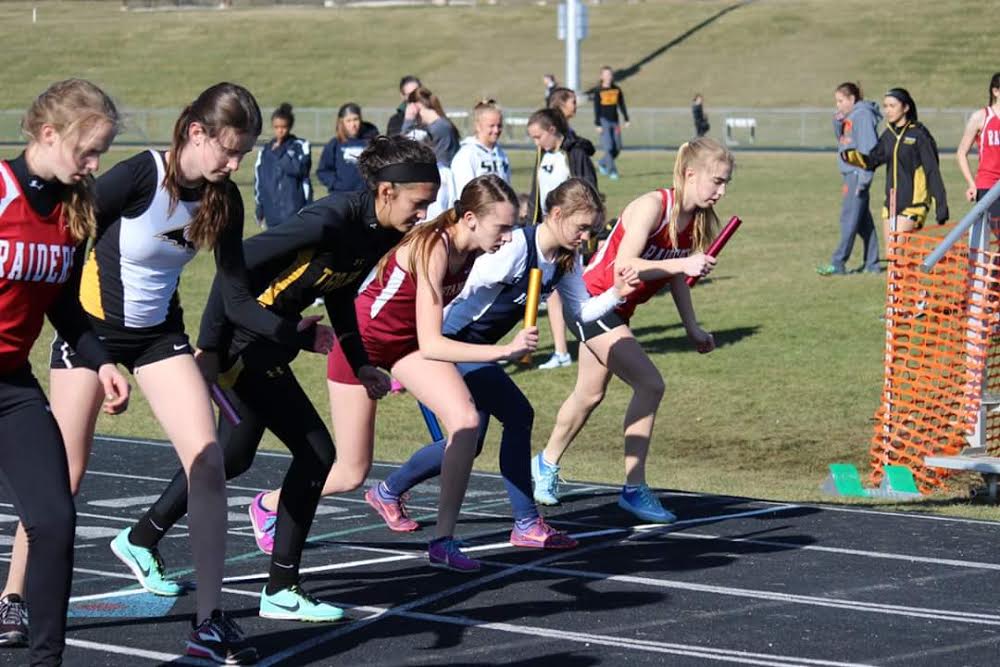 "We competed in a tough meet tonight, and we walked away with a meet championship," head coach Bridget Martin said. "It was great to get to run with some tough competition, and we proved we are one of those great teams. We truly believe our depth is what won us tonight's meet. Every single point counts. We had a few events and runners improve significantly this evening as we continue to try and figure out what is going to be the best fit for our team members. It is always nice to have options, and this team seems to definitely have just that."
The Mustangs only had two wins for the night. Freshman Margo Chipps ran a personal best time in the 400 meter hurdles of 68.57 seconds. This time ranks her second in Class 2A at press time. Sophomore Sierra Foster ran a personal best time of 62.53 in the 400 meter dash, placing first. She ranks tenth in all of 2A. 
Chipps was also on the second place shuttle hurdle team with sophomores Lexi Kuecker and Maybelle Smith and junior Megan Cowman. They finished at 1:12.73. The 4×400 team of junior Paytan Schut, sophomore Kate McCarthy, senior Ashley Miller and Foster placed second with a time of 4:19.52. Miller placed second in the 100 meter dash at 13.23 seconds.
Cowman finished third in the 100 meter hurdles with a time of 17.27. Junior Morgan Uhlenhopp was next in fourth at 17.65. Kuecker landed at 14 feet, 5.25 inches in the long jump placing third. Senior Baylee Smith, McCarthy, sophomore Klaire Jungling and Schut made up the 4×800 team. They finished in third with a time of 10:59.98. The sprint medley team of Chipps, Miller, Foster and Schut ran a season best time of 1:55.87 and placed third.
The Mustangs also had six fourth place finishes, two fifth and two sixth to boost them into first place as a team.
"Although the thought of Drake Relay qualifying has been in the back of our minds, our eyes are still set on May. It is our goal to continue to see those improvements as the season progresses, and we see some nicer weather next week," Martin said.
Tonight, April 26, the girls will be at Pella High School for the Tulip Time Relays. Field events begin at 5 p.m.
The girls' 4×100 team of Foster, Kuecker, Chipps and Miller will be competing at the Drake Relays tomorrow, April 27 at 5:33 p.m. The boys' 4×100 team of juniors Payton Strovers, Preston VanWyk and Brayton VanDyke and senior Noah Anderson also qualified. They will run at 6:29 p.m. Anderson also qualified in the 100 meter dash. Prelims begin at 8:40 a.m.