Young retires oven mitts, gradebook
by Wes Cummings
When one thinks of  family and consumer science classes (FACS) at PCM, they think of Denise Young. However, 18 years of teaching at PCM High School, she has announced her retirement at the end of this school year. Young has taught classes from foods, to parenting to clothing and textiles, and she enjoys all of them.
"The kids are always the interesting part. I just really like working with them. I've seen a lot of changes over the years with the student body, but they definitely keep me busy," Young said. "They say 'go out and do something that you like to do and it's not work'; I feel like this hasn't really felt like work to me."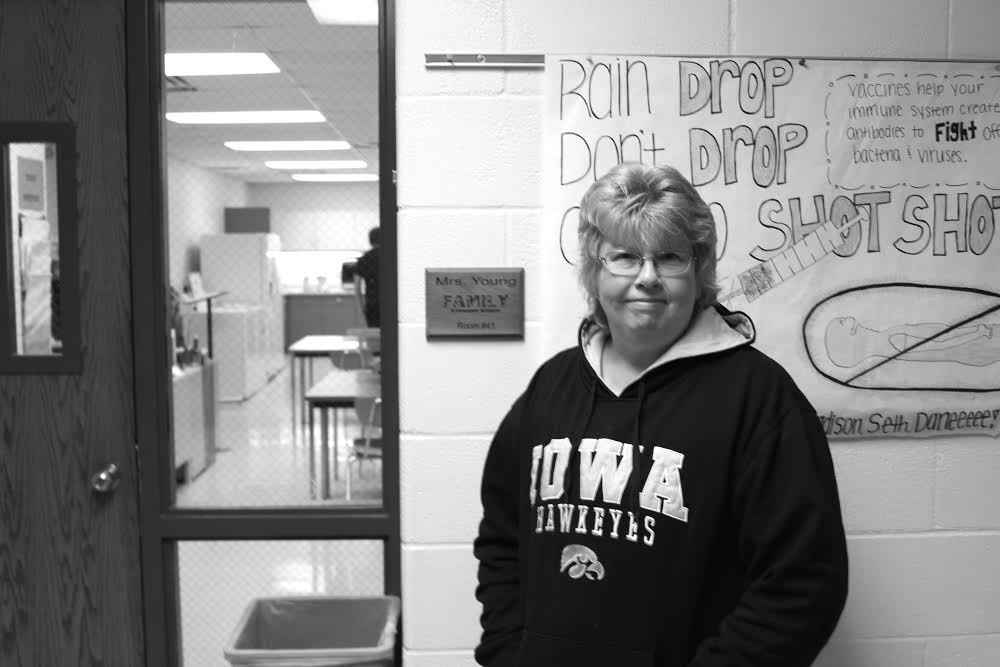 Young's love for FACS can be traced back to her high school days.
"Way back when I was in high school, I had a really awesome FACS teacher. Back then it was known as 'home ec', but she was just totally awesome and just very inspirational," Young never looked back.
She followed the path her teacher had laid out for her, and it thankfully led to PCM, but after 18 years here, it is time for her to say goodbye.
Often times, a teacher will feel bored or empty just a few months after their retirement, but Young does not think that will be the case for her.
"I plan on spending time with my grandchildren, a boy and a girl. I will go to their activities and spend a lot more time with my husband. I will also keep up with a lot of my hobbies like quilting," Young said.
For the past ten years, once a year, Young does a special tradition for the seniors about to say goodbye to PCM. She reads Dr. Seuss', Oh The Places You'll Go. The seniors listen with ambition, but there is a little bit of sadness in her words. Young will be reading the short story one last time and partly, it will be to herself. When asked about this she did no less than chuckle and say, "Well, I guess I hope I still have places to go."