Boys' First Track Meet is Golden
by Ayrton Breckenridge
On April 5, the boys track team participated in its first outdoor track meet this year. They ran at Clarke High School in Osceola. Due to the unusual weather for, April three prior meets were canceled. The forecasted weather for the boys first track meet was a high of 54 and a low of 28 with light wind, but the weather didn't seem to slow down PCM. They got first at the Clarke Track meet.As an overall team PCM scored 156 points. In second with 116 points was Earlham, Clarke was in third with 108 points
The races were, competitive but with the anticipation building up to run, the PCM boys showed up ready to run taking home first place as a team. Individually there were personal records, great improvements from last year, close competitive races and races were PCM showed off their strength by leaving second place in the dust.
The night started out with wins in the shuttle hurdle relay and shot put. Junior Isaac Telfer threw 41 feet, 10 inches while juniors Nick Buswell, Nick Dredge, Jarron Trausch and Cole Dustin won the shuttle hurdle relay with a time of 1:04.76. The next event was the 100-meter dash with junior Preston VanWyk coming in first at 11.04 and junior Payton Strovers crossing second at 11.13. The PCM 4×200 relay team won by five seconds with a time of 1:32.59. Running the 4×200 relay was Strovers, junior Wes Cummings, VanWyk and senior Noah Anderson. Anderson also got first in the 200-meter dash getting 22.07. A time faster than his fourth place State time last season.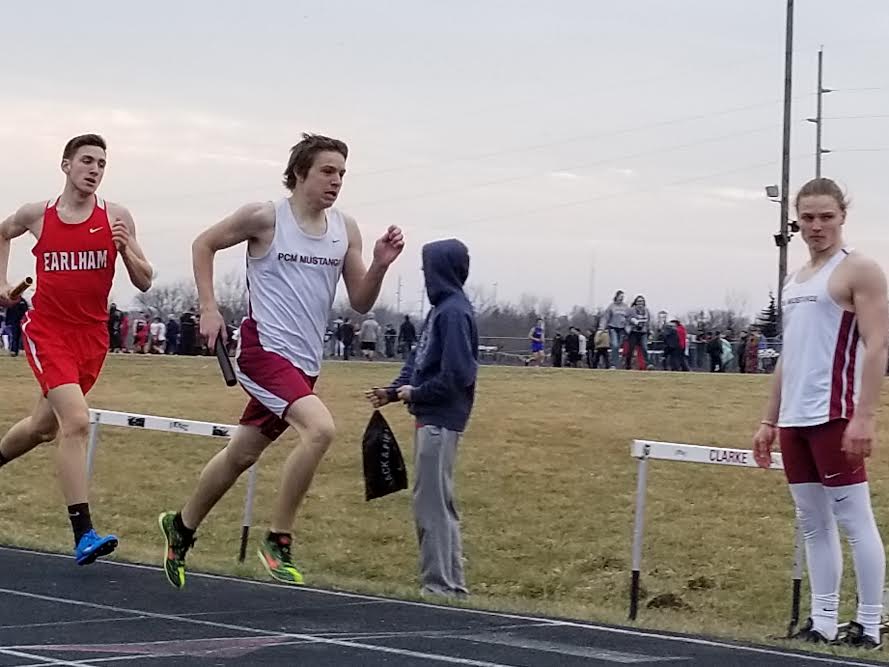 As the night got colder, it only seemed to slow down the competition. Freshman Beau Webb got a personal record in the 1600 meter run and took home gold with a time of 5:00. The following 4×100 relay, PCM placed first with a time of 44.19. Running was Strovers, VanWyk, junior Brayton VanDyke and Anderson. The meet concluded with the 4×400 relay. PCM capped the night off with another win with a time of 3:38.47. Running in the 4×400 relay was Cummings, senior Blake Lee, Anderson, and VanWyk.
"We did an excellent job with the running events prior to the 4×400 but we did really good and deserved that last win," said Lee.
The next track meet for the PCM boys is scheduled for April 13 at Adel High School.