SOTM: March 2018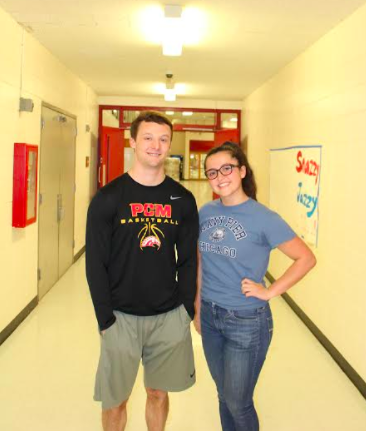 Name: Amber Meyer
Parents: Maria Thomas and Chad Meyer
Employer: Monroe Foods
Future Plans: I plan to go to the University of Iowa to become a nurse practitioner.
Extracurricular activities: Jazz choir, theater
Three words that describe me: Bubbly, passionate, hard-working
Favorite classes: Public speaking, leadership and choir
Advice for underclassmen: Be nice to everyone because you never know what is happening in the lives of others.
Best high school memory: Being drum major my senior year of band.
Dream job: My dream job is to be in musicals, but I'm happy in the career choice I have now.
Favorite book: Speak
Favorite movie: Million Dollar Baby or G.I. Jane
Favorite musician/band: I absolutely love the musical "Hamilton"
Name: Noah Henkenius
Nickname: Hank
Parents: Chuck and Shannon Henkenius
Employer: Gateway Pool
Future Plans: Go to UNI or Central and major in business administration then go to mortuary school.
Extracurricular activities: Baseball, big student little student
Three words that describe me: Laid-back, relaxed, funny
Favorite classes: Ms. Pohl classes and government/history classes
Advice for underclassmen: Make some good friends and be open to new things
Best high school memory: Going to all the basketball games sophomore year with Brad, Phif, and Reid 
Dream job: Anything to do with baseball
Favorite book: "The Cubs Way" by Tom Verdacci
Favorite movie: Field of Dreams or Ball Durham
Favorite musician/band: Eric Church