PCM Jazz Band Triumphs at Indian Hills
by Chase Spencer
The PCM jazz band took home first place on Feb. 24. The band performed their usual show consisting of, "I'm Beginning to see the Light" by Duke Ellington arranged by Paul Baker, "All My Yesterdays" by Peter Blair and "St. Thomas" by Sonny Rollins arranged by Mark Taylor. Since there were only two competitors in the 2A division, the band had to arrive early at 6:30 a.m.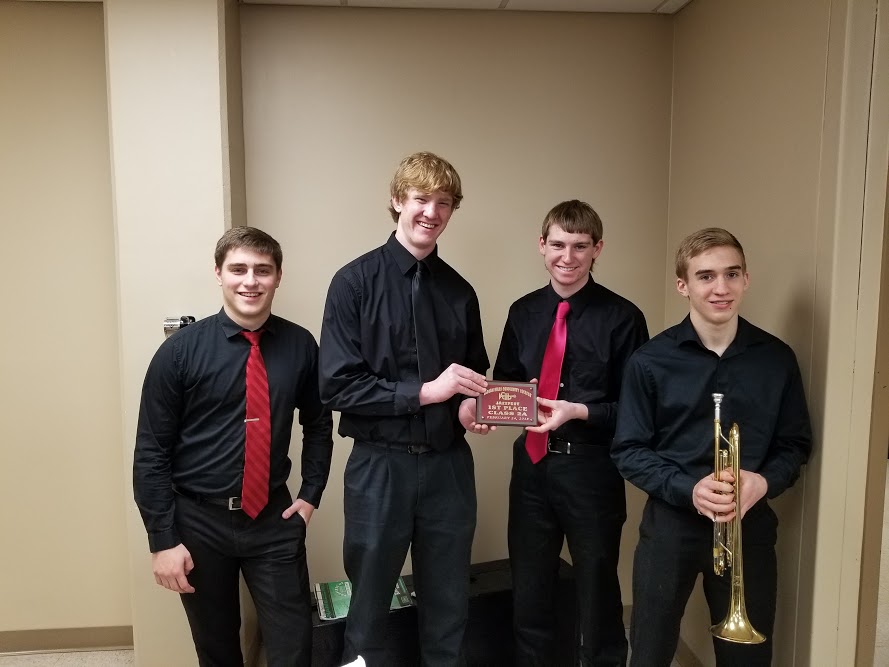 "I have been very impressed with our jazz ensemble's ability to continue refining their performance and sound," band director Louis Dupuis said.
Senior Rory Van Gorp received the outstanding soloist award for his feature in "All My Yesterdays," and for his performance in "St. Thomas," Van Gorp also received an award for outstanding musicianship.Seniors Jacob Ponder, Caleb Peter, and sophomore Chase Spencer also received the musicianship award.
"I thought we played really well in time, and the pitch was pretty good," sophomore Cody Rink said.
Since the band received first place, they will be considered to perform at Jazz Championships hosted in Ames. The band believes they have a pretty good chance at performing due to their placing record at previous events. They have received two second place finishes and a division ll. That event will be held on April 5.