PCM High School to lose longest serving staff member
by Olin Meinders
"I really enjoy what I do, but I think that it's time to find something else. It's time."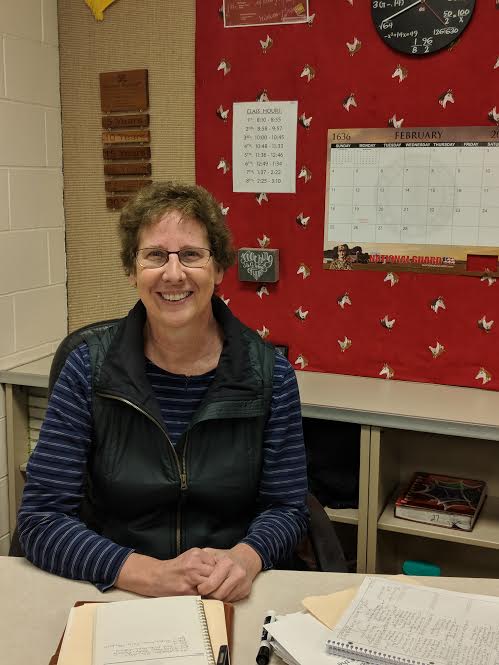 After years of teaching in Monroe, Etta DeKruyff has decided to retire. She broke the news to her classes the week of Jan. 23, and although the school board has yet to make it official, it is certain that PCM will have a big hole to fill at the end of the school year. DeKruyff is currently the most experienced teacher at the high school and has been teaching in the area longer than PCM has been around.
DeKruyff has been a teacher for the past 34 years of her life. Thirty-three of those years have been in the Prairie City-Monroe community. She spent the first year of her teaching career in western Iowa at Westwood Community School District in Sloan, Iowa. In 1985, she found herself teaching at Monroe High School until January 1986 when a fire started and didn't leave much of the school behind.
"My first year was definitely a lot easier than my second year because of the fire. We had to learn how to teach without books because we had nothing left," DeKruyff said.
The time following the fire was a huge test to not only the teachers but to the people of both towns. The people came together and impressed her with their compassion and resilience. Eventually the schools in Prairie City and Monroe were consolidated, and she continued to teach in Monroe.
DeKruyff has always been more than a teacher to PCM during her time here. When she started here, she coached just about every sport possible before the birth of her son Cody in 1995. PCM Sports today would undoubtedly not be the same without her.
"We have awesome students here. I couldn't ask for anything more than the staff and students. I really love the kids."
DeKruyff was never expecting to stay in Monroe for as long as she has, but she credits everyone around her for being the key to her longevity. Of all the reasons that DeKruyff has taught here for so long, the ones that she emphasizes the most are the staff and students.
Although she isn't entirely sure in regards to what she plans on doing after retirement, she's not ruling out substitute teaching in the future.
"I'll look to see what's out there for me. I know some teachers think they'll never substitute teach but that might be something that I might enjoy doing. I love the kids." said DeKruyff.
PCM will surely miss and remember a lot of things about DeKruyff. Things like screaming in a room full of quiet test takers, "ooftas," "shoot a pickle," "off on a tangent," SOH-CAH-TOA, cartwheels, countless puns, and above all, showing every student that she cares. Whether or not she comes back as a substitute, her presence at PCM will be missed.