Eight Mustang wrestlers qualify for Districts
by Caleb Peter
After more than a full week of practice, the PCM grapplers went to North Polk on Feb. 3 to compete for a chance to qualify for Districts. This day was also a chance for the team to compete at regional duals if they placed first or second. PCM faced five teams: Saydel, Bondurant-Farrar, North Polk, Chariton, and Van Meter. The long day of wrestling ended with eight district qualifiers. Six of them were crowned champions. The team placed second scoring 235.5, falling short of Van Meter, who scored 250. PCM was hurt a little in the team scoring because of receiving so many byes for top seeding. There were little opportunities to pick up extra points with wins in the first round.
At 106, freshman Landon Fenton received a bye his first round, and pinned his next opponent. Fenton wrestled Bondurant-Farrar's Colby Lillegard for his first place match and lost by fall at 1:25. Fenton qualified for Districts, placing second.
Sophomore Payton Drake wrestling 113, got first place, received a bye the first round and then beat his next opponent by tech fall. Drake defeated Van Meter's Colby Wiederholt 6-4 in the first place match.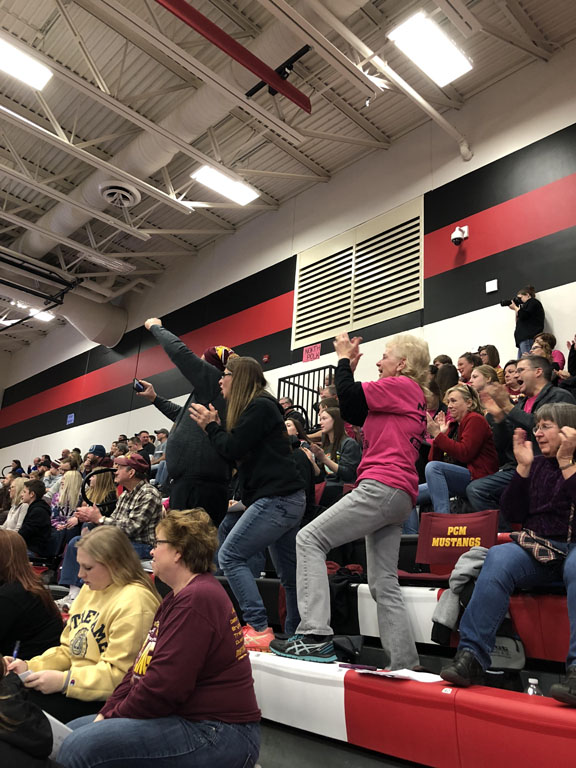 At 120, senior Caleb Peter defeated his opponent 2-1 in the first round, but lost by fall 3:19 to a Van Meter wrestler. Peter lost the match for third place by decision, 9-2. Peter placed fourth.
Senior Chase Shirk at 126, after working hard for several months to cut down, saw all of the hunger and hard work payoff, earning first place. Shirk received a bye first round, then pinned both his opponents.
"I've been cutting weight about two months before wrestling started. I was sitting at 160 before the season, and I cut all the way down to 32. My coach advised me that it would be a good idea to cut down to 26 for State opportunity, and so that's what I did; I made the sacrifice," Shirk said.
Junior Clay Van Wyk received fifth place wrestling 132. Van Wyk lost his first match by decision, received a bye second round, then defeated his next opponent by decision 6-2 for fifth place.
Freshman Colby Tool, coming back from an injury, won his weight class at 138. Tool started with a bye first round and a 30-second pin second round. Tool won his finals match in overtime by decision 4-2.
Junior Cody Wallace got fourth place in the 145 pound weight class. Wallace pinned his first opponent in 3:09, then lost again to Saydel's Klayton Keller by fall in 14 seconds. Wallace then wrestled for third place but lost by decision 8-4, and Wallace placed fourth.
Senior Drew Johnson had close matches but couldn't make it out on the 152-pound weight class. Johnson pinned his first opponent in 1:42, then Johnson lost his next match 3-2. Johnson then lost another close match for third place by decision, 5-3, earning fourth place.
Junior Wes Cummings at 160 pinned both of his opponents, earning a ticket to districts. In both matches, Cummings pinned his opponents in the first period. Junior Lucas Roland at 170 had a similar experience to Cummings. Roland pinned both of his opponents and earned first place.  
At 182, junior Jarron Trausch won first place by two major decisions and a bye. Trausch wrestled Trevor Sprague from Saydel again. Last time, Trausch won 10-3, but this time Trausch won by major decision 13-4.
Although senior Noah Anderson joined halfway through the season with little experience, he upset his opponents, earning second place and going on to Districts. Anderson had a wrestle-back for second place and pinned his opponent in 1:41. The crowd and team exploded with cheers as the ref slapped the mat. Anderson walked off the mat excited, with a sacrificed chipped tooth, but earning a chance to wrestle at the district meet.
At 220, senior Jacob Ponder received third place, winning his first match but getting pinned in the second match. He wrestled for third place and pinned his opponent at 1:19. At 285, Jace Smith got fourth place, with a bye first round and was pinned by both his opponents.
The Mustangs who qualified for districts will compete at Knoxville on Saturday, Feb. 10 for their chance to wrestle under the roof of Wells Fargo. The Mustangs wrestled on Feb. six as a team at home for a chance to qualify for regional duals. As of press time, the results of the duals are not yet decided. If the 'Stangs won, they will be wrestling at the 2A State Dual Tournament on Wednesday, Feb. 14 at Wells Fargo Arena. Shirk has high prospects for Districts.
"I have high expectations for districts. I'm not over or under estimating anybody that will be there. I'm just gonna go out there and wrestle my matches, stay smart and hopefully I'll come out on top and have a trip to State."