PCM boys' basketball team leaves Rams in dust on Senior Night
by Nickolas Meinders
The PCM boys' basketball team set up to play their last regular season home game for the 2017-18 season on Feb. 2 against the Greene County Rams. Tip-off followed after senior recognition for five PCM seniors. It could not have been a better night for the seniors. Each senior put up points towards the Mustangs total of 70 by the end of the game. It seemed as though the Mustangs were in control of the game the entire time holding the Rams to a mere 45 and scoring 70 points to take the victory. 
The Mustangs came out fast to start the game and put up 19 points and holding the Rams to only nine in the first quarter. After the first quarter, the Mustangs kept playing fast and tacked on another 17 points, the Mustangs lead at the half 36-24. Junior Andrew Van Ryswyk had an impressive 13 points and 13 rebounds in the first half.
Van Ryswyk said, "We came out fast and never let up. It was really cool to put the game in a situation where some of the subs could get a good amount of playing time."
PCM came out from the half and kept playing as they did in the first: fast. There was no word to better describe the way the Mustangs played. They played fast and the Rams could not keep up. The boys kept the energy up and left the Rams in the dust, pushing the score to 48-32 by the end of the third quarter.  The Mustangs had an enormous fourth quarter, putting up 22 more points and holding the Rams to only scoring 13. Senior Jackson Thomas lead the Mustangs in points finishing the night off with 22. Van Ryswyk also came up big for the Mustangs and finished the game with 18 rebounds and 18 points. Towards the end of the fourth quarter, a variety of players got into the game including senior Colton Warrick who sinked one free-throw to add to PCM's final score of 70-45.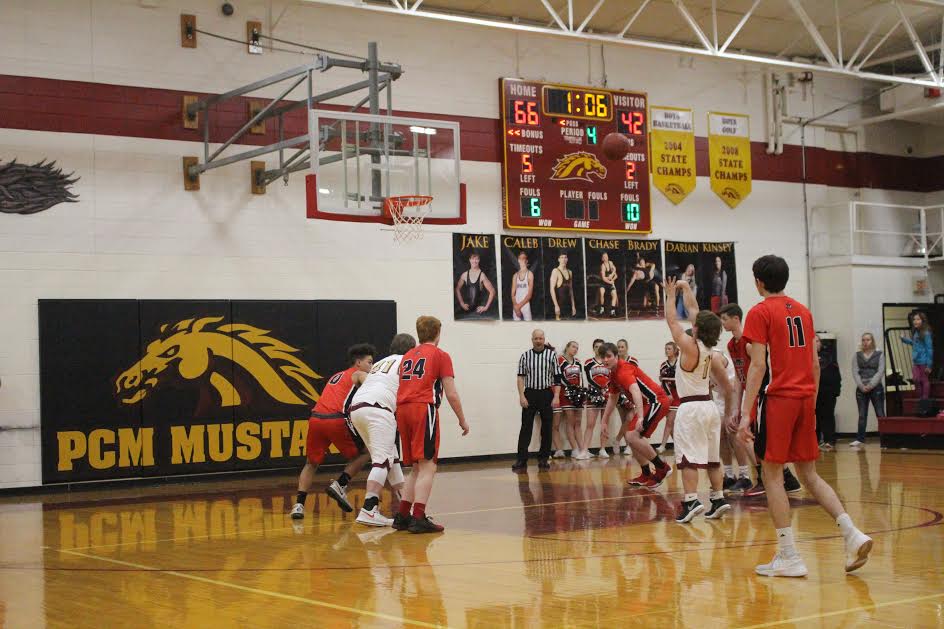 The boys' next game will be Thursday, Feb. 8 against South Harden in Eldora at 7:30 p.m.